'Zombieland 2' Could Arrive In 2019 And Feature The Original Cast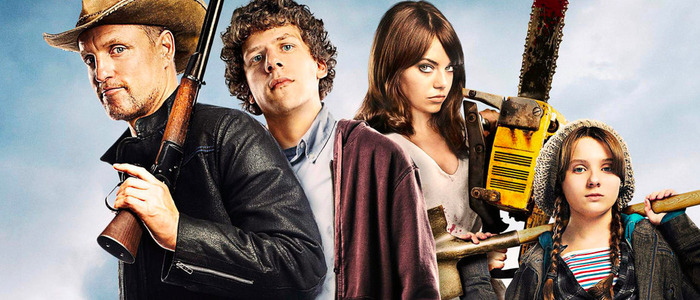 Remember Zombieland? The 2009 horror-comedy featuring Jesse Eisenberg, Emma Stone, Woody Harrelson and a pretty funny cameo from Bill Murray? A long-rumored sequel may finally be on the way. According to screenwriters Rhett Reese and Paul Wernick, Zombieland 2 is set for a 2019 release, and the original cast will be returning.
The original Zombieland feels like a film from a completely different era. Not only that, it feels kind of dated by now – the zombie genre has become oversaturated to the extreme. In other words, the time for a Zombieland sequel may have passed. And yet, Zombieland 2 is apparently on its way. Rhett Reese and Paul Wernick, writers of the first Zombieland, are currently out promoting their script for Deadpool 2. During an interview Vulture, the duo revealed that Zombieland 2 is currently on track for a 2019 release date.
"We're going on the tenth anniversary of Zombieland," Wernick said. "Zombieland came out October of 2009. We don't know what you get someone for their tenth anniversary, but it may be a Zombieland 2." Wernick then added: "The hope is that we're shooting that thing early 2019 for an October of '19 release...With the original cast, by the way."
This is all pretty vague, and Wernick does take pains to say that "the hope" is that they'll have the film ready for 2019, not that it's definitely happening. Wernick also went on to say:
"We are sitting on information that we can't entirely share at this moment, but we can just say we think fans of Zombieland who have been hoping for a Zombieland 2, that we will grant their wish very, very soon."
Here's my question: is anyone looking forward to Zombieland 2? If Zombieland 2 had been set for a 2010 or 2011 release, I'd assume the answer might be "yes." Now, 10 years later, I'm not so sure. In case you forgot what the original film was about, here's the synopsis.
A cowardly shut-in named Columbus (Jesse Eisenberg) is forced to join up with a seasoned zombie slayer named Tallahassee (Woody Harrelson) in order to survive the zombie apocalypse. As Tallahassee sets out on a mission to find the last Twinkie on Earth, the duo meets up with Wichita (Emma Stone) and Little Rock (Abigail Breslin), two young girls who have resorted to some rather unorthodox methods to survive amidst the chaos. Reluctant partners in the battle against the undead, all four soon begin to wonder if it might be better to simply take their chances alone
Wernick and Rees have hoped for a sequel for a few years now. There was also a TV series planned. The series even shot a pilot episode for Amazon, but Amazon decided not to pick the show up. In the recent interview, Wernick stresses that the plan is to have the original cast return. But would Academy Award Winner Emma Stone really want to return for Zombieland 2? I have my doubts. Perhaps we'll find out soon.