'Agents Of S.H.I.E.L.D.' Survives Thanos' Wrath, Will Return Summer 2019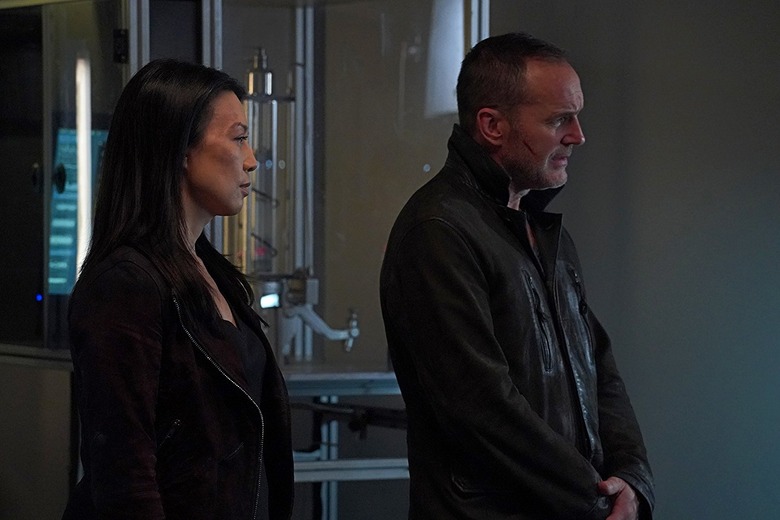 Thanos and the major TV networks both had pretty high body counts this year, but miraculously, Agents of S.H.I.E.L.D. managed to avoid an untimely demise by either hands. After rumors persisted that the Marvel show's current fifth season would be its last, ABC renewed Agents of S.H.I.E.L.D. for a shortened sixth season. So for those wondering how the longtime Marvel TV series would deal with the aftermath of Avengers: Infinity War, here's your chance to find out.
Agents of SHIELD Renewed for Season 6
ABC renewed the show for an abbreviated 13-episode sixth season, according to The Hollywood Reporter. Apart from its shortened season, ABC is also moving Agents of S.H.I.E.L.D. to the summer. ABC Entertainment president Channing Dungey confirmed Tuesday that the series will return in summer 2019.
Marvel's Agents of S.H.I.E.L.D. has remained on the bubble for much of its five-season run. Created by Joss Whedon, Jed Whedon, and Maurissa Tancharoen, the series made a big splash when it premiered in 2013, with Marvel Studios making lofty promises about an interconnected Marvel Cinematic Universe and Marvel TV universe. However, interest quickly waned after the first season's lackluster early episodes — even as the show picked up creatively toward the end of season 1 and became an actually great comic book show in its own right.
However, as ratings dropped through the first four seasons, ABC moved the Marvel series to a Friday graveyard shift in hopes of creating a genre-driven programming block. But as Agents of S.H.I.E.L.D.'s fifth season nears its finale, Whedon, Tancharoen, and executive producer Jeffrey Bell prepared to write the season finale as a season finale.
But not only has ABC renewed Agents of S.H.I.E.L.D. for a sixth season, it plans to continue the series for the foreseeable future. Though fans has essentially accepted reports that season 5 would be the last, Dungey confirmed that ABC is not approaching season 6 as the final season. So what next?
How Will Agents of S.H.I.E.L.D. Deal With The End of Infinity War?
Major spoilers for Avengers: Infinity War follow.
With the MCU and the Marvel TV universes almost completely separated — with barely a reference between them — Agents of S.H.I.E.L.D. increasingly feels like a product of a bygone era, back when dreams of #ItsAllConnected truly seemed feasible. And now, with Agents of S.H.I.E.L.D. facing a universe-wide shake-up following the end of Infinity War, does it even make sense to go on?
Yes, ABC seems to answer. It's clear that the network thinks there is more story to be mined from Agents of S.H.I.E.L.D., a show that has explored everything from Inhuman wars, deals with the devil, life-model decoys, interdimensional gates, virtual realities, and time travel. And wow, that was all in the latter three seasons. Agents of S.H.I.E.L.D. only came into its own at the end of season 1 when the release of Captain America: Winter Soldier completely dismantled the agency at the center of the show, shaking up the series and opening up the team to betrayal, back-stabbing, and a true conspiracy plot. But while that twist was tied more closely to the MCU than the series would ever be, it also freed Agents of S.H.I.E.L.D. from ties to the movies. The ABC series became free to be its own master.
But Agents of S.H.I.E.L.D. now faces its biggest obstacle that will force it to suddenly take into account the movies again. While S.H.I.E.L.D. has been jumping back and forth in time, the Earth is reckoning with its biggest catastrophe in history: Thanos.
With a snap of his fingers, the Mad Titan wiped out half of the universe, which leaves Agents of S.H.I.E.L.D. with more consequences to deal with than just one corrupt agency. Whedon and Tancharoen promised that the last few episodes of season 5 will take place at the same time as Infinity War, but thus far the the core S.H.I.E.L.D. members have remained removed from that action. The episodes have been deliberately timed with the few days that Infinity War runs the course of, with news reports showing the ramping up of Thanos' destruction and this season's Big Bad, General Talbot/Graviton explicitly referencing Thanos and the Avengers. But like many of the MCU tie-ins, it remains firmly in the periphery.
I have no idea what the last episode, ominously titled "The End," will deal with, but I predict we won't see The Dusting until the final few seconds. At which point, Whedon and Tancharoen have a whole 13 episodes to deal with the aftermath of Infinity War, but could that give them the same creative boost that Winter Soldier did? Or will we just get a S.H.I.E.L.D. take on The Leftovers?