'Escape Plan 2: Hades' Trailer: This Time, Sylvester Stallone Breaks Into Prison With Dave Bautista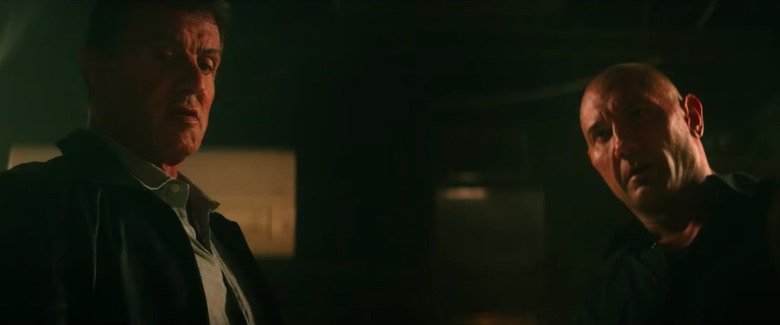 The sequel you've all been waiting for with bated breath is coming. The Escape Plan 2 trailer brings back the things that everyone loved about the first film: Sylvester Stallone, breaking out of insane dystopian-style prisons, and...muscle-y men? Stallone's last screen buddy Arnold Schwarzenegger is nowhere to be seen, but at least there's Dave Bautista, stepping up from his frequent appearances as a scene-stealing supporting character. And this time, they're in China!
Escape Plan 2 Trailer
When 2013's Escape Plan hit theaters, it was heralded as the action hero team-up of the century: Stallone and Schwarzenegger! The ultimate muscle men of '80s action movies! The adrenaline will be off the charts! Unfortunately, the critical and commercial response was a little less enthusiastic, with the film raking in a meager $25 million domestically and eking out a 50% rating on Rotten Tomatoes. Expendables, this ain't.
So how does that lead us to a sequel? Well, it turns out the clout of '80s action stars is still pretty big internationally, which led Escape Plan 2 to move ahead as a China-U.S. co-production. China plays a large part in the sequel's plot too, with Chinese star Xiaoming Huang playing Stallone's trusted team member who gets captured and placed in yet another inescapable prison that Ray and co. must now break into. But there's a twist! The evil warden of this prison also makes the cellmates fight to the death in a brutal human battleground known as Hades. Now, Ray has no choice but to turn to a new teammate, played by Dave Bautista.
Directed by Steven C. Miller, Escape Plan 2 also stars Curtis Jackson, Xiaoming Huang, Jesse Metcalfe, Jamie King, and Alphonso A'Qen-Aten Jackson. Original screenwriter Miles Chapman returned to pen the sequel.
Here is the official synopsis for Escape Plan 2:
Years after he fought his way out of an inescapable prison, Ray Breslin (Academy Award® nominee and Golden Globe® winner Sylvester Stallone) has organized a new top-notch security force. But when one of his team members goes missing, Breslin must return to the hell he once escaped from to save his friend from the prison's brutal human battleground known as Hades.
Escape Plan 2 will premiere on on Blu-ray, Digital and On Demand on June 29, 2018,