'Mile 22' Trailer: Mark Wahlberg And His Team Get S**t Done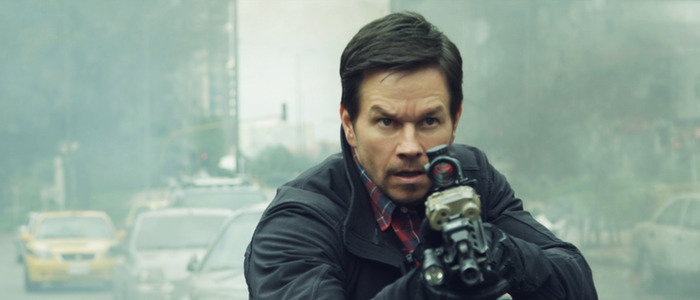 Mark Wahlberg and his team of heavily-armed ass-kickers are out for blood in the red-band Mile 22 trailer. The film reunites Wahlberg with director Peter Berg to tell an action-packed story about a top-secret tactical command unit. Watch the Mile 22 trailer below.
Mile 22 Trailer
This Mile 22 trailer certainly doesn't sugarcoat what it is: a big, loud action movie full of dialogue like, "We get s*** done!" Characters also keep saying "overwatch" in this trailer, over and over again, almost as if that should've been the actual title of the film. But I suppose producers couldn't go with that because of the Overwatch video game.
Mark Wahlberg leads a cast that includes John Malkovich (wearing quite the wig!), Lauren Cohan, The Raid's Iko Uwais, and Ronda Rousey. It all sort of looks like a very serious version of The Expendables, with Wahlberg putting on some crazy eyes to convey how out of control his character is. Here's the synopsis.
In a visceral modern thriller from the director of Lone Survivor, Mark Wahlberg stars as James Silva, an operative of the CIA's most highly-prized and least-understood unit. Aided by a top-secret tactical command team, Silva must retrieve and transport an asset who holds life-threatening information to Mile 22 for extraction before the enemy closes in.
Wahlberg and director Peter Berg have very big plans for Mile 22. There's already a sequel in development, and according to Deadline, there are also plans for a "scripted TV series and VR component." Wahlberg and Berg talked the project up with STX President Adam Fogelson at 2017's CinemaCon, and Fogelson said everyone was "planning for [Mile 22] to be a trilogy." Fogelson added:
"Mark and I have made three films now that are pretty heavy, to put it mildly. For us, to do Mile 22 and something that's fictional, and what we hope to be an intelligent, adult action film that's got a lot of muscle and intensity...It's a piece of fiction we're very excited about it. We're coming at you with a big ass action movie."
Will audiences want a Mile 22 trilogy (or a TV series and VR component, to boot)? I really don't know. It seems slightly far-fetched, but if you had told me in 2001 that The Fast and the Furious would kick off a huge, long-running, highly successful film franchise, I probably would've called you crazy. Stranger things have happened, that's all I'm saying.
Mile 22 will hit theaters on August 3, 2018.