Chris Evans Heads To 'Greenland' For Director Neill Blomkamp's Natural Disaster Thriller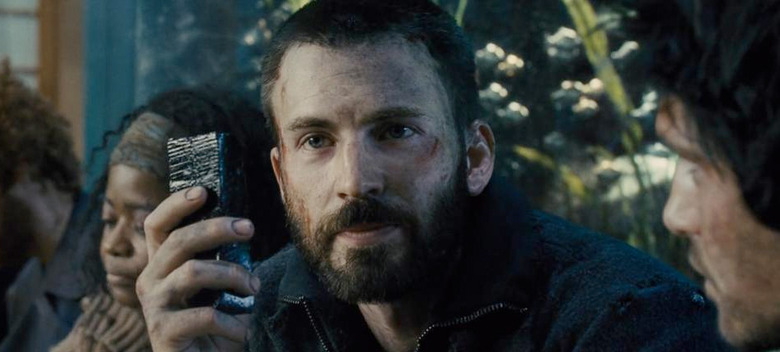 Chris Evans has been quite busy with the Marvel Cinematic Universe, but his streak as Captain America is seemingly coming to an end after Avengers 4. That means he's going to have a lot more time on his hands for other projects, and we just found out what one of them will be.Neill Blomkamp, the director behind District 9, Elysium and Chappie has line up his next film, and it's not that gestating Alien project that looks dead in the water. Instead, it's a movie called Greenland that Chris Evans will lead, and it sounds quite different from the techno-based, gritty futuristic worlds we're used to seeing Blomkamp play in on the big screen.
A press release out of the Cannes Film Market describes Greenland as being about "one family's fight for survival in the face of a cataclysmic natural disaster." Presumably Chris Evans will be the patriarch of this family, but beyond that assumption and brief logline, we have no other details at this point. That could mean this fits a little more in the wheelhouse of Blomkamp's stlye than we're anticipating. After all, natural disasters are likely only going to get worse in the future.
Greenland will be produced by Basil Iwanyk (Sicario, John Wick) for Thunder Road Pictures with Sébastien Raybaud and Harold van Lier at Anton and Nik Bower and Deepak Nayar at Riverstone Pictures executive producing and co-financing the new motion picture endeavor. STXinternational, an arm of STX Entertainment, will distribute the film internationally, including the United Kingdom and Ireland, but it sounds like the movie is still looking to land domestic distribution.
"Greenland is the kind of highly commercial genre fare that sees Neill Blomkamp doing what he does best: delivering a smart, fresh, high concept narrative in a world we can easily recognize," said David Kosse, President of STXinternational. "We were immediately attracted to this talent-driven, wide release, theatrical title that is so distinctive of the STX brand. Working alongside Neill, Thunder Road, Riverstone and Anton to bring this to the marketplace is a tremendous opportunity."
Aside from the standard publicity fluff and vague logline, this sounds like a project to get excited about. While Neill Blomkamp hasn't quite replicated the success and quality of his debut film District 9, I'm hoping he still has some tricks up his sleeve. With Chris Evans on board, the project is even more promising. After all, Chris Evans found himself interested in Snowpiercer, and that movie turned out to be one of his best offerings outside of his turns as Captain America.