Video: /Film Attends 'Jurassic Park' 25th Anniversary Celebration At Universal Studios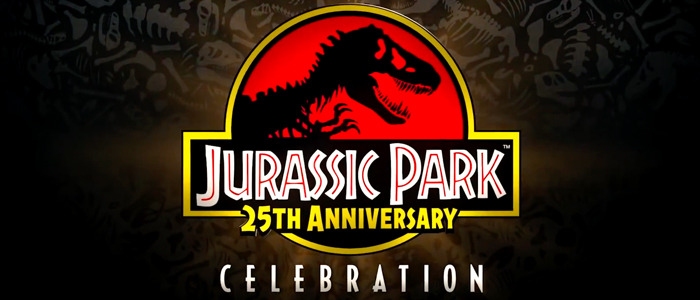 This past weekend, Universal Studios Hollywood held an official Jurassic Park 25th anniversary celebration in the park for fans of Steven Spielberg's 1993 classic. They provided tons of Jurassic-themed entertainment for those in attendance, including talent panels with stars like Laura Dern and Jeff Goldblum, original props and costumes, and much more. They spared no expense (as John Hammond would say), and /Film was there with our video cameras to capture the event on its opening night.
The event was originally planned to take place on Friday, May 11 and Saturday, May 12, but demand was so intense that the studio added a third night of festivities on Sunday, May 13. I attended on Friday night, and made this video of the highlights of the experience:
Jurassic Park 25th Anniversary Event
In addition to the props, costume contests, themed food, and one last big hurrah for Jurassic Park: The Ride (since it's being revamped soon), Universal also hosted a screening of Spielberg's original movie. In the same theater, the studio also showed off the first few minutes of the upcoming Jurassic World: Fallen Kingdom. Unfortunately, they didn't allow press inside for that part of the event, so you'll have to rely on the reactions of these die-hard Jurassic fans:
@FilmBayona @colintrevorrow Last night I was able to attend the 25th anniversary celebration for #JurassicPark. The first 10 minutes of #FallenKingdom was so incredible, fantastic, suspenseful, terrifying, & amazing footage. I cannot wait to see the film in June! Fantastic Work! pic.twitter.com/3XevxM8AZ4

— Matthew Jury (@MDJury) May 13, 2018
Uh wow. The opening of #FallenKingdom blew me away. This is a verrry different #JurassicPark. Descriptions don't do it true justice. @FilmBayona and @colintrevorrow have made something special here.

Damn. Is it June yet? pic.twitter.com/ZXf5wyEzJQ

— Chris (@ChrisLikesDinos) May 12, 2018
Just saw the opening to #FallenKingdom & I am in SHOCK. Absolutely insane & terrifying in the best possible way. Easily my favorite intro in the Jurassic series. THANK YOU to @FilmBayona & @colintrevorrow for the chance to view it and for the best opening scene in the franchise!

— that dinosaur guy 🦖 (@T_rexellence) May 12, 2018
Each night, Jurassic World director Colin Trevorrow served as the moderator for panel discussions with talent and filmmakers from the original movie. On Friday, the panel included assistant director John Kretchmer, cinematographer Dean Cundey, and visual effects supervisor Dennis Muren. But as cool as it was to hear legends like Cundey and Muren talk about their experience making the movie, it seems like I picked the wrong night to attend this celebration. The always-amazing Laura Dern (Dr. Ellie Sattler) was part of the panel on Saturday night, and on Sunday night, Jeff Goldblum (Dr. Ian Malcolm) was there with special guests Jordan Vogt-Roberts (Kong: Skull Island) and Gareth Edwards (Rogue One: A Star Wars Story).
Still, there was a great feeling of camaraderie in the air on the studio lot on Friday evening as like-minded Jurassic fans gathered together to celebrate their favorite film. People dressed like Nedry and Ian Malcolm posed for photos with fellow fans, multiple people were dressed as Mr. DNA (my personal favorite costume of those I saw), and as a DJ played tunes late into the night, three fans in T-rex costumes took to the dance floor and put a smile on everyone's face. This was Universal's first themed celebration for this movie, and from the way they went all out for this event, it's clear they're very proud to be the studio behind Steven Spielberg's timeless classic.