Steven Soderbergh's Panama Papers Movie Might Head To Netflix; Meryl Streep To Star; Gary Oldman, Antonio Banderas In Talks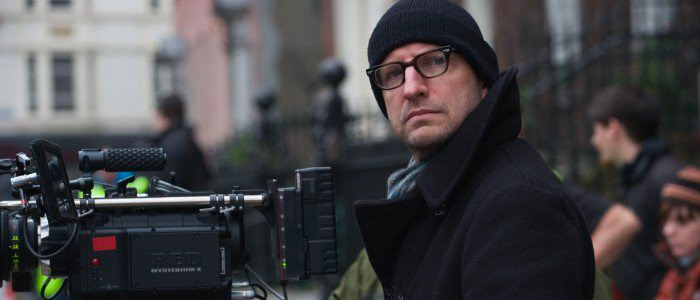 Netflix wants more Panama Papers-related projects in their line-up. They already have one film in the works about that subject, and now it looks like they're circling Steven Soderbergh's Panama Papers movie The Laundromat. Plus: Meryl Streep has joined the cast, and Gary Oldman and Antonio Banderas are both in talks to star.
We've already reported on Steven Soderbergh's Panama Papers movie The Laundromat. The film will focus on "the largest leak of corporate data in history, when 11.5 million documents from Panamanian law firm Mossack Fonesca were revealed back in 2015 and detailed the various legal and illegal ways powerful people and corporations hide their money in offshore accounts." Soderbergh's take is going to be based on author Jake Bernstein's book Secrecy World, which examines "the web of money laundering and other criminal activity revealed in the data leak." Now we have some updates.
First up: The Hollywood Reporter reveals that a relatively unknown actress named Meryl Streep will star in Soderbergh's film. Per THR, "Streep's character details are being kept in the secret [sic] but sources describe it as being the emotional throughline of the movie."
And that's not all. Deadline reports that Antonio Banderas and recent Oscar winner Gary Oldman are both circling the project. There's no word on who Oldman or Banderas might be playing, but they're both interesting, talented actors who will each bring their own unique gifts to the film. Banderas has worked with Soderbergh before, in the film Haywire.
In addition to this potential casting news, Deadline also reveals that Netlfix has shown interest in acquiring the project. If they do, this will be the second Panama Papers drama from the streaming service. In 2016, Netflix announced plans to make a Panama Papers movie produced by ER and Shameless producer John Wells. Here's info about that film:
Netflix and John Wells Productions (Burnt, August Osage County, Love and Mercy) are teaming up to tell the definitive story behind The Panama Papers and the two journalists who, working through an anonymous source known as John Doe, cracked open an unprecedented torrent of lies, diversions and information that revealed how the wealthy hid billions of dollars offshore through a little known law firm in Panama. The work, released in collaboration with the International Consortium of Investigative Journalists (ICIJ), set off an international firestorm, triggering the resignation of heads of state, judicial investigations in over a dozen countries and a global debate on just how easy it has become for the wealthy to avoid taxes, game the system and evade the law.
Netflix has acquired exclusive rights to Panama Papers: Breaking the Story of How the World's Rich and Powerful Hide Their Money, a recently released book by Obermaier and Obermayer and will work with producers Wells and Claire Rudnick Polstein and executive producer Zach Studin of John Wells Productions to bring to life the dramatic story in a feature film. Marina Walker, ICIJ deputy director, and Gerard Ryle, who leads the ICIJ's headquarters staff in Washington D.C., and oversaw the more than 400 journalists in 76 countries on the Panama Papers, are also on-board to collaborate on the film.
Just why Netflix would want two dramas about the same subject is a bit of a puzzler, but I'm sure they have their reasons. Of these two projects, the Soderbergh project is the film I'm most interested in, simply because I love Soderbergh's work and I'm thrilled that he's releasing so many new movies now after his brief retirement. Also: the thought of Meryl Streep working with Steven Soderbergh is really cool.