'The Greatest Showman' May Be Headed To Broadway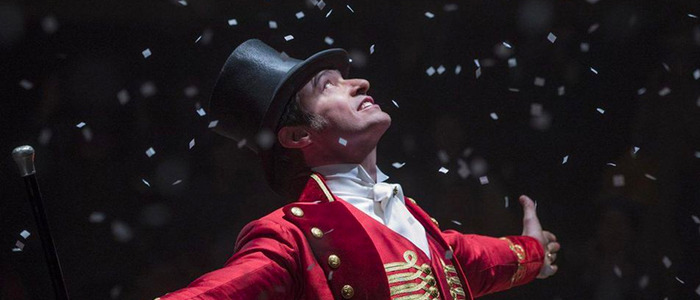 Break out the top hats and awkward lip-syncing: The Greatest Showman may be headed to Broadway. The Hugh Jackman-starring musical was a surprise hit, and now it might make the leap from screen to stage.
Time for a confession: I really liked The Greatest Showman. Yes, all the scenes that don't have singing are kind of bad. And yes, the film plays so fast and loose with the true story of P.T. Barnum that it might as well be classified as fantasy. But hey, you know what? Those songs are catchy as hell. On top of that, the musical numbers were staged really well, which is more than I can say for a lot of modern musicals (I'm looking at you, Tim Burton's Sweeney Todd).
Most critics were not blown away by the film, and the film had a very soft opening weekend. But word-of-mouth helped turn the film into a surprise hit, making The Greatest Showman one of the top-grossing musicals of all time in North America. Now, The Greatest Showman could be headed to Broadway. The Sun says a Greatest Showman Broadway musical is currently in the works, and it's being "secretly worked on by the brains behind the movie." There was talk of a potential Greatest Showman Broadway musical before the film was released, but when early tracking indicated a potential box office flop, those plans were scrapped.
Now that The Greatest Showman is a hit, it looks like the Broadway plans are back on. 20th Century Fox film chairman-CEO Stacey Snider floated the idea of taking the film to Broadway back in January, but didn't provide many details. Star Hugh Jackman weighed in on a potential live stage show version of the film in the past, saying: "We were talking about a live version of the show even before [the movie] came out...There was a discussion at one point in the eight-year journey of this movie of maybe going live first." Jackman also added:
"When Keala Settle got up, stood in the middle of a room and sang 'This Is Me,' with no makeup, no nothing, no anything, there was not a dry eye in the house...The musical really works live."
This Is Me – Live
Adapting movies to the stage is nothing new. Recently, Frozen and Mean Girls made the leap from screen to stage. Frozen was already a musical, while new songs were written for Mean Girls. The Greatest Showman already has the benefit of having a complete soundtrack full of well-liked songs, and the very nature of the story – which is heavily focused on big, showy productions – lends itself perfectly to the stage. The Greatest Showman on Broadway seems like a no brainer at this point.