VOTD: Harrison Ford Surprises Alden Ehrenreich During 'Solo: A Star Wars Story' Press Tour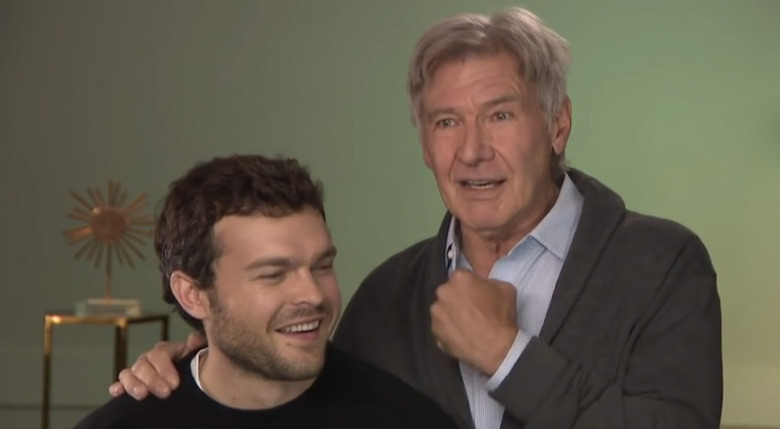 Last week at the premiere of Solo: A Star Wars Story there was no sign of Harrison Ford. Since the actor was finally given the opportunity to walk away from Star Wars after the death of Han Solo in Star Wars: The Force Awakens, you can hardly blame him for wanting to stay away from the hordes of fans who go crazy whenever he shows up. Plus, he probably wanted to let the film's star Alden Ehrenreich have the spotlight as the charming smuggler.
For any fans thinking that Harrison Ford's absence was a little worrisome, we have some good news. The original Han Solo caught the young Han Solo off guard during a recent on camera interview when Harrison Ford surprised Alden Ehrenreich in the middle of an on-camera interview. You can check out the cool reunion of the two actors in a video below.
Harrison Ford Surprises Alden Ehrenreich
Not only did Harrison Ford make a surprise appearance during this interview, making the two a Han Duo (I'm so sorry, but I'm not sorry), but he gave the ultimate compliment to Alden Ehrenreich's performance while praising the movie. Ford said:
"I just thought it was spectacular. And I just thought he was so smart about what he did and how he did it. I couldn't be happier."
Hopefully that will help quell some of the worries that some Star Wars fans still have about Han Solo's origin story. And unlike some publicized moments from late night television and whatnot, Ford's praise for both the movie and Ehrenreich actually seems genuine.
"Remember to never let them tell you the odds." #HanSolo pic.twitter.com/Zu8a5CHDG3

— Star Wars | #TheBadBatch now streaming on Disney+ (@starwars) May 13, 2018
This isn't the first time Alden Ehrenreich and Harrison Ford have met, but it is the first time they've seen each other since their original meeting. The two were spotted having lunch sometime before production on Solo: A Star Wars Story began, and Ford had a role as an advisor behind the scenes as well. You can read more about all of that over here.
Solo: A Star Wars Story arrives in theaters on May 25, 2018.