'Lost In La Mancha' Sequel Chronicling More Of Terry Gilliam's 'Quixote' Troubles On The Way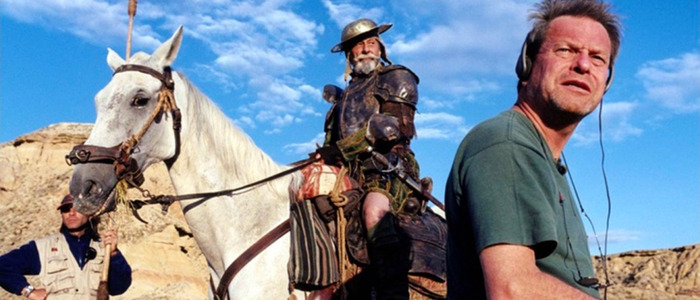 Terry Gilliam's The Man Who Killed Don Quixote has had one long, strange journey to the screen. The troubled production of the film was previously chronicled in the documentary Lost in La Mancha. Now, a Lost in La Mancha sequel called He Dreams of Giants will finish telling the story.
The team that made Lost in La Mancha, the documentary chronicling Terry Gilliam's troubled Man Who Killed Don Quixote production, are coming back to tell the rest of the tale. So much time has passed since the last film, and so many further things have gone wrong since, that the need for a follow-up documentary is now apparent. Variety reports Keith Fulton and Louis Pepe, who made Lost in La Mancha, will also make this new documentary, titled He Dreams of Giants.
This Lost in La Mancha sequel will take a different approach to the story than the previous film. "We began to think this is more a film about an internal struggle in an artist's mind," Fulton told Variety. "What is it like for an artist to be standing on the brink of actually finishing this project finally?"
"Even on the set we would say the conflicts raging around Terry right now of making the movie are not nearly as interesting as what's going on inside his head," added Pepe.
In 2002, Lost in La Mancha chronicled the doomed production of Gilliam's Man Who Killed Don Quixote, a film the director had been developing since 1989. When Gilliam finally began making the film, one problem after another presented itself. The original movie was supposed to star Johnny Depp and Jean Rochefort. The elderly Rochefort suffered a herniated disc while filming, and could not continue filming. Oh, and there were also flash-floods, lightning storms, and constant noise from NATO aircraft target practice area near the shooting location. Gilliam was eventually forced to pull the plug.
Lost In La Mancha Trailer
After the production was shut down, Gilliam started up again in 2008, but the director continued to suffer setbacks. Gilliam would then spend a decade trying to get the film back on track. Eventually, he was able to realize his dream, with Adam Driver and Jonathan Pryce starring in the film. Yet even after Gilliam managed to finish shooting the film, setbacks still arose, in the form of a lawsuit and Amazon deciding not to distribute the film. Now The Man Who Killed Don Quixote will play at the Cannes Film Festival before eventually finding its way to an audience.
He Dreams of Giants will make use of archival footage as well as a technique in which the filmmakers "shot Gilliam's face, revealing his reactions to what was happening around him."
This has ultimately been one long, strange trip for everyone involved. Fulton and Pepe originally made a documentary chronicling Gilliam's film 12 Monkeys. Gilliam was so impressed with the filmmakers that he hired them to come document the making of Don Quixote as well, not realizing that what was supposed to be a standard making-of doc would turn into a front-row seat to absolute disaster.
Yet that disaster won't be the main subject of His Dreams of Giants. "We certainly touch on it in our film and acknowledge it," Fulton says, "but it always struck us that it wasn't as fascinating as this deeper 27-year push."