Is Lucasfilm Finally Gearing Up For That Obi-Wan Spin-Off Movie?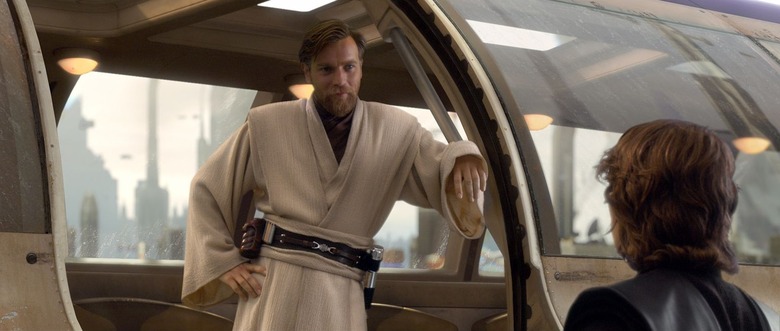 Finally, we may receive the Obi-Wan spin-off movie we were looking for. The long-rumored Star Wars standalone movie centered around the Jedi Master first played by Alec Guinness in A New Hope and Ewan McGregor in the prequel films looked like it was finally getting off the ground last year when news broke that The Hours director Stephen Daldry was in talks with Lucasfilm to direct.
But then, as the Star Wars fandom attention turned to Star Wars: The Last Jedi then Solo: A Star Wars Story, not a peep was heard from Lucasfilm about the potential Obi-Wan spin-off. Until now.
Despite the initial excitement over reports that an Obi-Wan spin-off movie was in development, Lucasfilm never officially announced that the film was in production. And while Lucasfilm has merrily announced a bevy of TV series, animated series, a Rian Johnson film trilogy, and a film series from the creators of Game of Thrones, not a word was spoken about the Obi-Wan movie, or whether McGregor would return as the young Jedi Master.
But according to Fantha Tracks (via Making Star Wars), a "well-placed" source within Lucasfilm confirms that development has begun on the Obi-Wan Kenobi Star Wars Story. The source has reportedly looked at Lucasfilm's plans for the film and confirmed that a flurry of activity has started to take place at Disney's Pinewood Studios, where most of the Star Wars films have been shot. Fantha reported:
"The project is sufficiently along that an art department is now in full pre-production mode at Pinewood Studios, England with ancillary work being carried out at Industrial Light & Magic in London.  A number of concept artists, prop modellers, and storyboard artists are working as a team across the two locations on the film, with the group growing in numbers every month. Contracts have also been extended to a number of crew who have worked on various Star Wars films produced at Pinewood under the Disney era, to join the production when their work on Episode IX ends.  This will see the Obi-Wan crew grow gradually over the remainder of the year but primarily from October on wards. Pre-production will continue at Pinewood whilst Episode IX shoots from this summer through the end of the year, at which point production of the Obi-Wan movie has been scheduled to move onto stages in mid January 2019 with the main shoot to begin in April of 2019."
The source also said that Lucasfilm plans to set the Obi-Wan movie release date for December 2020.
Now, this information should all be taken with a grain of salt, as Lucasfilm has remained curiously tight-lipped on an Obi-Wan movie. McGregor, who in the past has been enthusiastic about reprising the role for a spin-off film, has been silent on the subject as well.
Then there's the question of what time period of Obi-Wan's life this film would cover. Star Wars Rebels and Marvel's Star Wars comics have extensively covered Obi-Wan's life between the prequels and A New Hope. So it's likely that a potential Obi-Wan spin-off movie would deal with an even earlier aspect of the Jedi Master's life, before he became a Jedi Master. But we think it's probably most obviously going to be set in the time between the prequel and original trilogies.
If Lucasfilm were to move forward with an Obi-Wan movie, would you want to see a younger Obi-Wan? Or do you want to see McGregor reprise his role? I for one would love to see McGregor own the role again — he was by far my favorite part of the prequels, and it would be a shame if he couldn't return to the franchise.