Timothy Olyphant Eyeing Role In Quentin Tarantino's 'Once Upon A Time In Hollywood'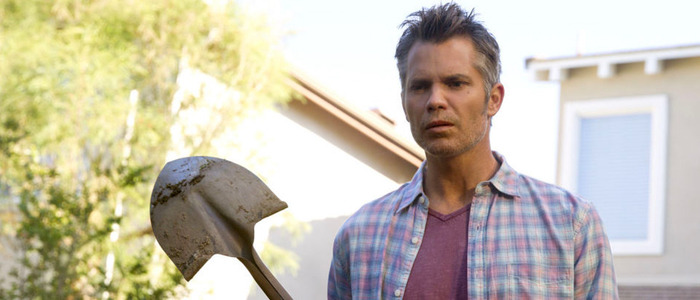 Yet another impressive actor is eyeing a part in Quentin Tarantino's impeccable Once Upon A Time In Hollywood cast. Timothy Olyphant has tossed his hat in the ring and may co-star alongside Leonardo DiCaprio, Brad Pitt, Margot Robbie, Burt Reynolds and more.
Who will be next to join Tarantino's rapidly growing Once Upon A Time In Hollywood? Perhaps you! And if not you, then Timothy Olyphant. Deadline reports Olyphant is eyeing a part in the new Tarantino film, which is set against the backdrop of the Manson Family murders of 1969. No one is sure just what part that will be, and while I could absolutely see Olyphant playing Charles Manson, that's probably not the case.
Should Olyphant climb aboard, he'll join an already impressive line-up that includes:
Leonardo DiCaprio as Rick Dalton, a washed-up Western TV star struggling to stay relevant in Hollywood.
Brad Pitt as Cliff Booth, Rick's longtime friend and stunt-double.
Margot Robbie as Sharon Tate, the actress who was murdered by members of Charles Manson's cult. She also just happens to be Rick's next door neighbor in the film.
Burt Reynolds as George Spahn, the man who rented his ranch out to Manson. (Learn more about Spahn here.)
Kurt Russell, Tim Roth, and Michael Madsen, all in currently undisclosed supporting roles.
Olyphant is a very good actor, able to convey both brooding menace (see Deadwood) and also charming humor (see Santa Clarita Diet). I'm very interested to see him work with someone like Tarantino. I'm also curious to see just how many parts Tarantino has to fill – how big is this cast going to be? How many more characters will figure into the plot? Is Charles Manson himself going to be a character – and if so, who is playing him?
In addition to Olyphant's possible casting, we now have word (via Omega Underground) that cinematographer Robert Richardson, who worke don Tarantino's films Inglourious Basterds, Django Unchained and The Hateful Eight, will be reuniting with the filmmaker to shoot the movie.
Once Upon A Time In Hollywood has been described by Tarantino himself as a film that's "probably the closest to Pulp Fiction" that he's done. While the Manson Family murders are a story element in the film, the movie itself is said to be a multi-faceted story about several different people in and around Hollywood in 1969. As Tarantino himself put it:
"It takes place during the 1969 Hollywood era at the height of the counterculture explosion, at the time of the hippie revolution...During the summer, little by little, block by block, we'll be transforming Los Angeles in the psychedelic Hollywood of 1969."
Once Upon A Time In Hollywood will hit theaters on August 9, 2019.