Is This Why Colin Trevorrow Was Fired From 'Star Wars Episode 9'?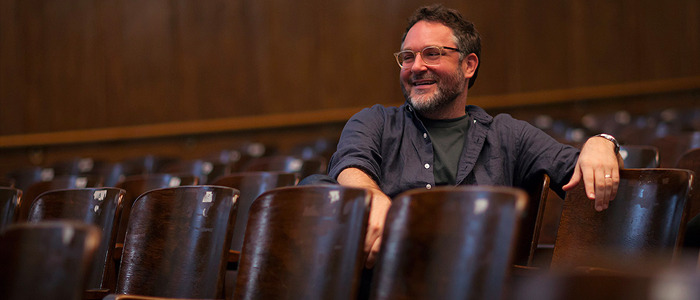 The behind-the-scenes troubles at Lucasfilm have become almost a regular fixture of the entertainment news cycle. Ever since Star Wars: The Force Awakens went through extensive reshoots, it seems like Lucasfilm could not release a movie without some reports of sweeping events behind closed doors.
Those reports kicked into high gear last year with the one-two punch of Phil Lord and Chris Miller getting fired from Solo: A Star Wars Story and Colin Trevorrow parting ways with Lucasfilm during the development of Star Wars Episode 9. Now, a new report unveils a few more details about the Colin Trevorrow Star Wars Episode 9 departure.
A new report from The Wall Street Journal, which also showed us a behind-the-scenes glimpse of the conflict brewing in the early days of the production of Solo, gave us a few more details about Trevorrow's firing from Episode 9.
We knew that Trevorrow's vision for Episode 9 clashed with that of Lucasfilm president Kathleen Kennedy, whose iron grip on the Star Wars production may have been at the root of all these behind-the-scenes conflicts. WSJ writes:
Colin Trevorrow, the director of "Jurassic World" initially tapped to helm the next "Star Wars" movie, 2019's Episode IX, was dismissed after Ms. Kennedy grew unhappy with his work on the script, said a person with knowledge of his work on the movie.
Trevorrow worked on his initial draft of the script with his frequent collaborator Derek Connolly, but that was nixed by Kennedy. Lucasfilm went on to hire Harry Potter and the Cursed Child writer Jack Thorne to rewrite Trevorrow's script, but that went poorly as well. After the Thorne draft, Trevorrow reportedly wanted another go at the script himself, but Kennedy decided to dismiss Trevorrow and move on.
But as we've argued before, Kennedy has a phenomenal track record as a producer. She is behind some of the most critically acclaimed films of all time and has helped shepherd the Star Wars franchise into the modern era with overwhelming critical and commercial success. While she's clashed with Lord and Miller, Rogue One director Gareth Edwards, and Trevorrow over "creative differences," Star Wars: The Last Jedi director Rian Johnson and The Force Awakens director J.J. Abrams both praised her work process.
Johnson told Wall Street Journal that Kennedy left him a "creative bubble" that empowered him "to tell the story I cared about in the way I wanted to tell it." And while Abrams said he had differences of opinion "all the time" with Kennedy, he told WSJ that the Lucasfilm president "really takes in what people say and finds a creative way to aggregate and distill the conversation."
Abrams' ability to compromise with Kennedy is likely what earned him the job to return for Star Wars Episode 9. And the fact that Abrams already had ideas for "where the story would go," he told WSJ:
"I had a bunch of ideas from the beginning, back on VII, of where the story would go. I just never in my wildest dreams thought I would have a chance to execute them."
Now the finger-pointing over this behind-the-scenes drama can continue, but I should mention that all of these conflicts have still led to some pretty great, well-reviewed movies. None of the films from the new era of Star Wars have fallen below a 93% on Rotten Tomatoes — so Kennedy must be doing something right.