Watch A New 'Incredibles 2' Trailer And Get Your Tickets Right Now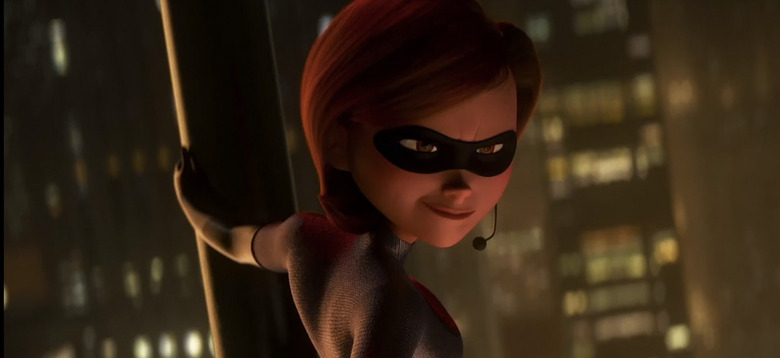 All the excitement around Avengers: Infinity War is starting to die down a little bit. So now, Disney will be concentrating on their release of Lucasfilm's Solo: A Star Wars Story, which already has some pretty positive early buzz going for it. However, let's not forget about another exciting sequel that Disney has up their sleeves later this summer.
Incredibles 2 brings back the superhero family we all fell in love with in 2004, and this time they're on a mission to get people to see supers as the heroes they used to be. Well, that's what Elastigirl's (Holly Hunter) mission is anyway. Meanwhile, Mr. Incredible (Craig T. Nelson) is taking care of the kids and trying to keep the new Parr family household in order. But that proves to be rather difficult with Jack-Jack showing that he has super powers to the whole family, as you can see in a new Incredibles 2 trailer below.
Watch the Incredibles 2 Trailer
The new sneak peek at Incredibles 2 shows off a bunch of new footage, including our first real glimpse of some of the wannabe supers we heard about not too long ago. There's even a shot of a couple of them using their powers in a fight with Dash, Violet and Jack-Jack, who make an escape in Mr. Incredible's signature car at some point. In fact, there will be a lot of new supers in this movie, though they won't all be fleshed out characters. Brad Bird explained to Fandango:
"They're in there, but that doesn't mean that they each have backstories and storylines. They might just be in a shot. They might just represent the fact that superheroes are starting to feel like society will accept them more, so they're coming out a little bit. But I wouldn't take it literally that there is, like, we're trying to outdo the Avengers or something by having more heroes than have ever been seen together. It's definitely not that. We're focusing on our guys and the rest are just in there a little bit, but only in so far that it helps the main story with the Incredibles."
But the real star of this trailer is Jack-Jack as we see him getting in a fight with a raccoon in the background and turning into a wild demon baby when someone finds him lost on an elevator. That chubby little superhero is going to be quite the scene stealer, I think. But there's plenty of good stuff on display here that indicates Pixar Animation and director Brad Bird have a worthy sequel on their hands. If you want more about Incredibles 2, check out our reaction to 35 minutes of the movie we saw at Pixar earlier this year.
Incredibles 2 could give Pixar one of their biggest opening weekends ever, but we've got a little over a month until we can see how huge it will be. But the good news is that Incredibles 2 tickets are now on sale, and there are some cool events and goodies for you to choose from when you get your tickets.
Incredibles 2 Tickets, Offers and Events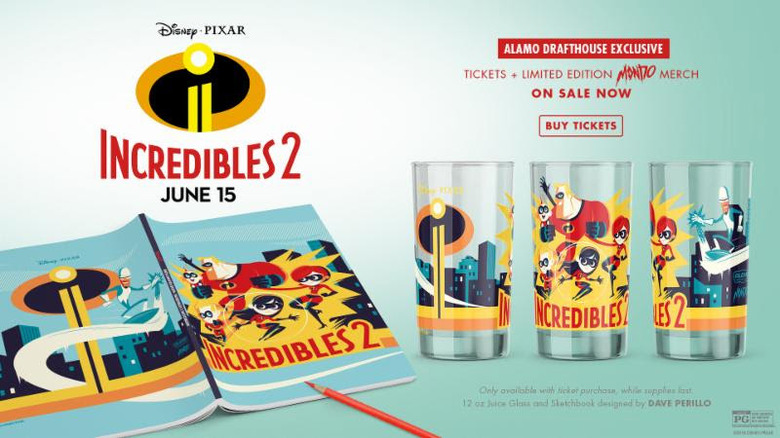 Incredibles 2 tickets are now on sale at theaters across the country, but you might want to see which theater chain is offering the best bang for your buck.
First of all, certain IMAX locations will be hosting an Incredibles double feature that will not only show The Incredibles on IMAX for the first time, but it will also let fans see Incredibles 2 a whole two days before it opens everywhere. That ticket will also get you a commemorative mini-poster. Get tickets to the double feature event over here.
If you're looking to catch an IMAX screening at Regal Cinemas, the first 1,000 guests will receive an exclusive collectible ticket, which will also be available in the Regal Crown Store as a special collectible poster while supplies last. Meanwhile, Cinemark will be handing out special posters for fans who see Incredibles 2 in Cinemark XD.
If you happen to buy your tickets from Fandango, which has become the go-to supplier for advance movie tickets, then you'll be able to choose from two different posters (seen above) available in the Fandango FanShop, while supplies last.
But it's Alamo Drafthouse who has the coolest offerings. They'll have an exclusive Incredibles 2 pint glass that you can purchase alongside your tickets, and you can also get your hands on a one-of-a-kind sketchbook, both designed by artist Dave Perillo (both seen above). Personally, I wish they'd sell those pint glasses separate from ticket purchases, but I guess that's what makes them exclusive.
Helen (voice of Holly Hunter) is called on to lead a campaign to bring Supers back, while Bob (voice of Craig T. Nelson) navigates the day-to-day heroics of "normal" life at home with Violet (voice of Sarah Vowell), Dash (voice of Huck Milner) and baby Jack-Jack—whose superpowers are about to be discovered. Their mission is derailed, however, when a new villain emerges with a brilliant and dangerous plot that threatens everything. But the Parrs don't shy away from a challenge, especially with Frozone (voice of Samuel L. Jackson) by their side. That's what makes this family so Incredible.
Incredibles 2 arrives on June 15, 2018