Jon Favreau's Live-Action 'Star Wars' Series Takes Place Before 'The Force Awakens'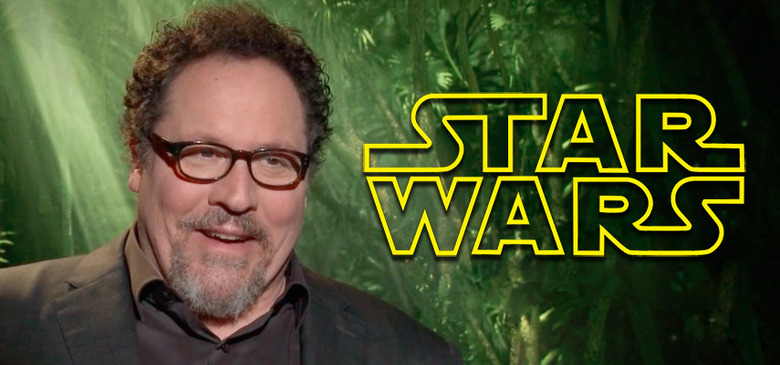 Back at the beginning of March, we learned the first live-action Star Wars television series would written and executive produced by Iron Man director and producer Jon Favreau. However, beyond the fact that it was a series that would take place in the Star Wars universe, we had no idea what that series would be about. Now, a few new details have emerged.
Appearing at the premiere for Solo: A Star Wars Story, in which Favreau voices an alien who joins Han Solo's heist crew, the showrunner revealed his live-action Star Wars TV series would be set seven years after the Battle of Endor in Return of the Jedi. That means it takes place long before the events of Star Wars: The Force Awakens.
Nerdist caught up with Jon Favreau on the red carpet, and while the setting of the new series was the biggest news from their quick conversation, there were two other key details he offered up.
First, the live-action Star Wars TV series will feature "all new characters." So we're not looking at a show that focuses on a canon character we've met elsewhere in the Star Wars saga so far. However, that doesn't mean the characters at the center of the show couldn't encounter legacy characters from time-to-time. They likely wouldn't meet up with any of the main characters from the original trilogy, but maybe ancillary characters could make an appearance occasionally.
Second, Favreau says he'll be using some of the cutting edge technology he utilized for The Jungle Book. Does that mean we'll be looking at a series where the environments are largely brought to life with visual effects rather than practical sets?  Will there be characters that are created entirely with digital effects? Neither of those assumptions would be all that surprising, but that sounds really expensive, even if the series is hailing from Disney, the studio with the deepest pockets in Hollywood.
As for the story, we're still in the dark on that front. But if it takes place seven years after the events of the Battle of Endor, then anything could happen. Could there possibly be ties to the events of Star Wars Battlefront II? The campaign of that video game focused on characters from the Empire in the immediate aftermath of the Battle of Endor, so maybe the fallout from the events of that narrative will set the stage for this TV series.
For now, we're just excited to get our first live-action Star Wars series, even if it's still a little ways off. The series will be coming exclusively to Disney's new streaming service that is expected to launch sometime in 2019.