A Brief History Of The Spahn Movie Ranch, An Important Location In Quentin Tarantino's 'Once Upon A Time In Hollywood'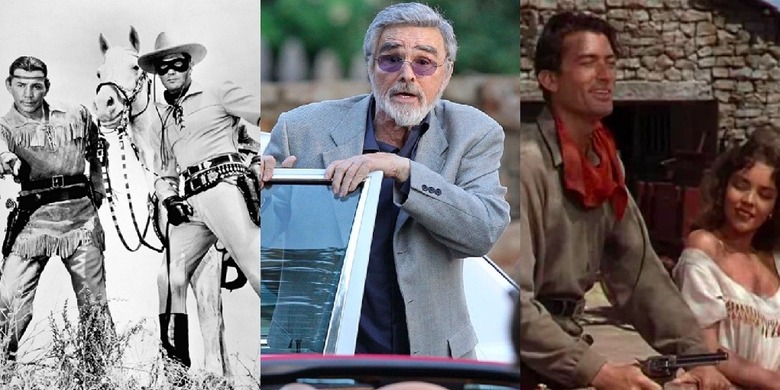 In 2000, The L.A. Times published a first-person account written by former census bureau trainee Virginia Leaper, who recalled a sunny California Day during the Spring of '70, where she'd been assigned (on the last day of training) to survey the infamous Spahn Movie Ranch, where the Manson Family had allegedly plotted the ritualistic murders of actress Sharon Tate and six others. Charles Manson was already in custody and awaiting trial, but a handful of his followers still resided at the ranch with its then 81-year-old owner, George Spahn. As Ms. Leaper tells it, these zealots knew the government had Manson locked down, yet still believed he'd return to them any day, cleared of all charges.
Leaper had heard the rumors regarding the old blind man and the "hippie" commune on his ranch. According to local legend, the young women that still counted Manson as their savior kept Spahn satiated with visceral pleasures (i.e. food and sex), to the point that the geriatric groundskeeper turned his cloudy eyes away from the nefarious happenings on this dusty home front. However, on the afternoon this hapless census employee turned off Santa Susana Pass Road onto the dirt trail that led to Spahn's ranch, she found Manson's harem suspiciously eyeing her after she entered its elderly owner's home. While Leaper asked Spahn a series of questions (all contained in a "three-pound" binder), the dirty faces in the room multiplied, closing in and making her quite uncomfortable.
One question in particular brought the rather routine inquiry to a spooky halt:
"You have a ranch hand who lives here, don't you, Mr. Spahn? Is his name Shea?"Something caused me to look up. The eyes of perhaps 10 people were all focused on me.I had a sudden flash of what I represented to these people. Not the war-protesting, civil-rights-advocating liberal I believed myself to be, but a personification of the Enemy. I was someone of the generation from which they had cut all ties, a member of the Establishment and a person conducting a government survey who might just be a police spy. I thought of the Manson Family's epithet, PIG, written in blood at one of the murder sites, and I regretted my decision not to take a police escort.After what seemed like a very long pause, Spahn answered, simply, that Shea wasn't there anymore. I hastily got Spahn's signature and, with trembling hands, put my materials in my satchel and turned to go.
Imagine living with that story for the rest of your life, knowing that a simple survey assignment could've led to you becoming a victim to America's most famous mass murder cult. Even after the Spahn Movie Ranch burned down in September of '70 (courtesy of a wild brush fire), and was subsequently sold off to a land developer, an eerie mystique still hung over the expanse. What used to be home to numerous TV Western productions (the long-running Bonanza being one of them) now became a haunted locale, readymade for lurid, exploitive recreations. "Family" pictures The Other Side of Madness ('71), Manson ('73), and Manson Family Movies ('84) all either used documentary footage or performed re-enactments on those old stunt stages, trying to capture whatever creepy aura remained in the wake of these ill-famed psychopaths.
Now, Quentin Tarantino is constructing arguably the greatest tribute to the Spahn Ranch with the upcoming Once Upon A Time In Hollywood ('19). On top of casting Brad Pitt, Leonardo DiCaprio and Margot Robbie (as Roman Polanski's doomed, pregnant bride), Burt Reynolds has been cast as Spahn, hoping to add one more notch to his already storied belt via the old coot who housed Manson and his unwashed mob on those sprawling 494 acres. It's a casting coup that's both a dream come true for avowed mustache enthusiast Tarantino, that also inextricably links Once Upon a Time In Hollywood to the Ranch's blood and acid tinged history. To wit, in a career full of homages to cinema's past, QT is creating a flesh and blood link to the New Hollywood brink in which his newest piece of pulp fiction is set.
William S. Hart and Duel In the Sun ('46)
William S. Hart was born into show business. The son of successful Broadway performer William Surrey Hart, his father was also one of the first big screen Western icons, and became a massive box office draw during the '20s, earning the nickname "Two-Gun Bill" in silent thrillers such as Wild Bill Hickock ('23) and Singer Jim McKee ('24). Hart Sr. even went on to write his own Western novels after retiring and handing the acting reins over to Old West titans such as Tom Mix, including the '29 autobiography My Life – East and West. He was viewed by many critics as a beacon of virtue, representing justice and the American Way with a gun belt strapped to his hip.
The establishment of Hart's ranch stretches back to The Homestead Act of 1862, which provided that any American adult citizen who'd never borne arms against the U.S. government could claim 160 acres of surveyed property west of the Mississippi. In 1897, James Williams staked his claim to a stretch of California dirt that would later become a piece of the Spahn Movie Ranch. It wasn't until movie production companies moved into Southern California that William S. Hart – obsessed with keeping his father's legacy alive – purchased the Williams stretch, with the intention of constructing a stable for stunt horses.
A shelter soon became a full-blown sound stage, as numerous filmmakers were attracted to the desolate landscape. Westerns were obviously still en vogue during the '40s (what with legends like Howard Hawks and John Ford churning out their innumerable classics), and David O. Selznick utilized Hart's newly established dustbowl arena to produce his genre staple Duel In the Sun ('46), starring the one and only Gregory Peck. Two years later, Hart sold the ranch, which passed through several investors until a dairy farmer from Philadelphia, Pennsylvania came along and transmuted it into a television mainstay.
George Spahn and The Lone Ranger ('49 – '57) 
George Spahn purchased the ranch in 1953. The Lone Ranger had already been filming episodes there for about a year, and Spahn decided to continue renting pieces of the property out for the production to use as a small screen vista. Bonanza came next in 1959; another half-hour Western serial that found Spahn's scorched earth to be the perfect backdrop for the Cartwright Family's numerous adventures. Spahn was already 70 years old, so it was all easy money for him, as the codger relaxed in his ranch home and collected occupancy checks.
Family friendly TV series weren't the only programming that was being recorded at the Spahn Movie Ranch, as a few pieces of drive-in fare and sexploitation set up shop. Fledgling schlock artist Vic Savage (Street-Fighter ['59]) lensed "best worst movie" contender The Creeping Terror ('64) there, before wizard of gore Herschell Gordon Lewis helmed his fleshy softcore cowboy romp, Linda and Abilene ('69). Something Weird Video staple The Sadistic Hypnotist ('69) also soaked up the locale's perverse atmosphere, as a semi-conscious car crash victim is whipped and raped by wicked Wanda (Katharine Shubeck) and her clan of S&M hungry followers.
But it was Al Adamson's biker throw down Satan's Sadists ('69) that actually filmed on the Ranch after this rather unsettling collection of free love weirdos had moved onto Spahn's land. Many of the actors involved (including star Regina Carrol) were alarmed by the shambling, unkempt zombies who called the desert home, and showed up to watch them film each day. Others even wore guns while patrolling the production's perimeter, harassing female performers and crew before Adamson had them thrown off set. Chaos had arrived at Chatswood, California, as one of the most heinous crimes in American history was about to take place, and Satan's Sadists was the last major motion picture to call the Spahn Movie Ranch its base of operations before that fateful fire in Fall '70.
Charles Manson and Helter Skelter ('69)
By Summer '68, the Spahn Ranch saw very little Hollywood action, making it the perfect spot for Manson to set up his hedonistic commune. With very little dough to pay George for rent, Charlie and the blind man reached a sort of "gentlemen's agreement". The Manson family wives would have sex with Spahn and act as his personal slaves, so that the clan could stay for free. This level of beck and call intimacy is what led to Spahn bestowing the girls their scandalous nicknames: Patricia "Big Patty" Krenwinkel, Catherine "Gypsy" Share, Susan "Sexy Sadie" Atkins and, most notably, Lynette "Squeaky" Fromme. Squeaky became Spahn's favorite, taking on the role of his "spouse" (her new moniker derived from the sounds she made when the old man touched her). It was Squeaky's job to essentially act as a Ranch watchdog, making sure nobody got out of line, while providing George the most sexual favors.
Before they'd moved in with Spahn, the Manson Family had been living with Beach Boys drummer Dennis Wilson, who'd picked the girls up hitchhiking and then met Charlie, who treated the musician like a veritable bank (Wilson would at one point estimate the experience cost him $100,000, including a crashed $21,000 Mercedes). The troupe engaged in copious group sex, while Manson recorded music with Wilson's band, much to musical mastermind Brian Wilson's dismay. It's during this time that Manson also met L.A. record producer Terry Melcher. The son of movie star Doris Day, Melcher manned the boards on Pete Seeger's "Turn, Turn, Turn", and played on the Beach Boys' Pet Sounds. Manson's bizarre charisma reportedly intrigued Melcher, and the two discussed recording a demo for the cult leader to take out to record companies in the hopes of getting signed.
By that Fall, Manson had penned a collection of songs on the Ranch, and the Beach Boys recorded "Cease to Exist" (which Dennis Wilson would later revise and rename "Never Learn Not To Love" for their album 20/20). The song would also appear as a B-Side on the Boys' "Bluebirds Over the Mountain", which placed on the charts, peaking at number sixty-one. However, Manson became enraged that Melcher hadn't delivered on their supposed deal to cut a record together, and stormed his house on Cielo Drive, unaware that the producer had already vacated the premises. Instead, Charlie crashed a party being thrown by its latest resident: a beautiful actress named Sharon Tate.
Manson often described a race war he desired to incite using lyrics from the Beatles' White Album and passages from the Biblical Book of Revelations. He called this chimerical vision "Helter Skelter" and predicted it would occur in the Summer of '69. On July 1, 1969, Tex Watson – a family member living on the Spahn Ranch – planned to hustle black weed dealer Bernard "Lotsapoppa" Crowe, successfully scamming him out of $2500. After Crowe demanded his scratch back, Manson arranged a meeting at the connection's apartment, and shot the man square in his chest. Though George Spahn would deny any knowledge of these events, the proof is rather apparent. "Helter Skelter" began on his run-down Movie Ranch, and would end on August 25, as ranch hand and former stunt man Donald "Shorty" Shea became the Family's final victim, his body going undiscovered until 1977.
Burt Reynolds and Once Upon A Time In Hollywood ('19)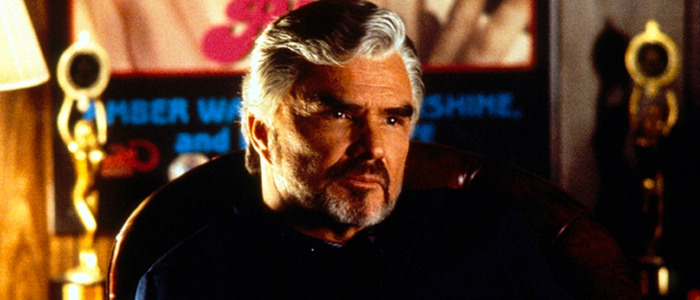 Long before he was cast in Quentin Tarantino's Once Upon a Time In Hollywood, Burt Reynolds spent a solid amount of time on Western TV sets with his longtime stunt double-turned-director Hal Needham (Hooper ['78]). While unconfirmed, it's difficult not to speculate that the Gunsmoke ('55 – '75) duo are at least partially the basis for Tarantino's fictional compadres (and next-door neighbors to Sharon Tate): former Western TV star Rick Dalton (Leonardo DiCaprio) and his own stunt stand-in Cliff Booth (Brad Pitt). While neither spent a significant amount of time on the Spahn Ranch, Reynolds and Needham shared a rather raucous bachelor pad together, as they were inseparable best friends. The Summer of '69 is also just before Reynolds became a household name, thanks to breakout roles in Deliverance ('72) and White Lightning ('73).
Yet this is what marks the 82-year-old Reynolds' casting as George Spahn so damn intriguing (beyond giving the brilliant movie star perhaps his final iconic character). With Burt, QT is creating a living reference to the era via a man who lived through it and knows how those sets and actors worked. Reynolds' presence is proof that these stories still live and breathe amongst us, as those who were witnesses to the Manson's decimation of peace and love (not to mention the decline of serialized Western programming) can still relay what it was like to exist at the dawn of New Hollywood.
If the rumors are true, Manson actually plays a very tiny part in Once Upon A Time In Hollywood, as Tarantino is reportedly focusing on the individuals who hovered around this black hole, often without even knowing how dangerous his evil presence was on Los Angeles' peripheral. Zeroing in on a Reynolds/Needham-style duo just trying to make their mark on entertainment history – all while bumping into Sharon Tate and Roman Polanski (who's supposed to also be a significant character in the picture) – hints at the grand design QT may have in store for us come next August. During LA's Summer of '69, you could easily encounter Death Himself (or, in the case of George Spahn, become His literal landlord) while trying to make it big under the scorching California sun.