'Deadpool 2' Early Buzz: Better Than The First Film In Every Way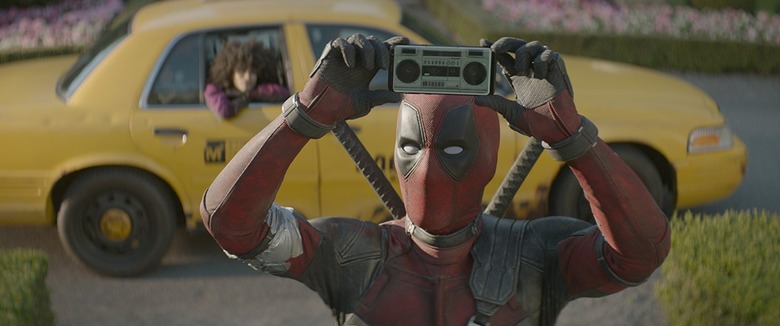 The first Deadpool took the superhero world by storm, breaking down fourth walls and poking fun at the genre that has dominated Hollywood for the past 15 years. But was that just lightning in a bottle?
Turns out no, according to the Deadpool 2 early buzz. In fact, critics say that the 20th Century Fox sequel is even better than the first film, earning the movie's bloody R-rating and wowing early audiences with a post-credits scene that some are saying is the best superhero post-credits scene ever.
See the early social media reactions to Deadpool 2 below.
Believe it or not, there are a fair few people who weren't completely charmed by the first Deadpool. But the problems they found in the 2015 movie were nowhere to be seen in Deadpool 2, which critics called a vast improvement over the first film.
Alright, I guess the social media embargo is up? In that case: #Deadpool2 is better than the first film in literally every single way. I don't care for the first DEADPOOL at all, but this one hooked me. Script is threadbare, but it's so consistently funny that it didn't matter.

— Chris Evangelista (@cevangelista413) May 10, 2018
So, #DEADPOOL2 is the perfect sequel. Doubles down on everything that fans love about the original, and fixes some of that film's issues. Huge, huge laughs that play the audience like a fiddle. @VancityReynolds destroys as Wade. Great action, fantastic comic nods. A killer ride! pic.twitter.com/KaM8gUT2Jf

— Sean O'Connell (@Sean_OConnell) May 10, 2018
I liked DEADPOOL 2 more than the first one (which I wasn't a huge fan of). Slow to start but all the stuff with X-Force and Cable (and Peter!) works surprisingly well.

— Matt Singer (@mattsinger) May 10, 2018
I didn't like the first Deadpool. DEADPOOL 2 beat me into submission until I was actually enjoying myself. Also it features my now favorite post credit scene.

— Mike Ryan (@mikeryan) May 10, 2018
Happy to report 'Deadpool 2' is a lot of fun and had me laughing beginning to end. Stuff after the credits is *awesome*. All the people added to the film were perfectly cast. Avoid spoilers. Always makes it a better experience. pic.twitter.com/4Q3Kr1ARPh

— Steven Weintraub (@colliderfrosty) May 10, 2018
#Deadpool2 is no doubt the most violent major release since Kill Bill Volume 1. It's also funnier than the first and has me genuinely excited for a sequel. Oh and it features a ton of Canada jokes, so of course I loved it.

— Nigel Smith (@nigelmfs) May 10, 2018
#DEADPOOL2 Emoji Pre-Review: 🤣😱🤣😱🤣😱🤬😳🤬🔥🔥🔥🔥🎧🤘😎🤗❤️

— Grace Randolph (@GraceRandolph) May 10, 2018
Although most critics tried to keep a tight lid on spoilers, many couldn't help but mention the post-credits scene. Rarely has a post-credits scene been raved about as much — or even more — than the film itself, but apparently Deadpool 2 has a post-credits scene for the ages.
Just saw #Deadpool2. Safe to say it features the best post credits scene EVER. I'm still recovering.

— Nigel Smith (@nigelmfs) May 10, 2018
#Deadpool2 is a feast for pop culture geeks who are sick of superhero movie cliches — with the most satisfying post-credits scene in recent memory.

— Thom Geier (@thomgeier) May 10, 2018
However, there were a few who weren't so keen on it. The sequel has apparently doubled down on the tongue-in-cheek meta humor and the juvenile jokes catered toward teenagers.
DEADPOOL 2: this time he knows he's in a cinematic universe!!!

— David Sims (@davidlsims) May 10, 2018
But it inevitably drew some comparisons to another recent Marvel superhero movie starring Josh Brolin — in a good way.
Them's fighting words.
The review embargo for Deadpool 2 lifts on Monday, May 14, so until then, you can be content in knowing that the sequel will probably exceed your expectations.
Directed by David Leitch, Deadpool 2 stars Ryan Reynolds, Josh Brolin, Morena Baccarin, Julian Dennison, Zazie Beetz, T.J. Miller, Brianna Hildebrand, and Jack Kesy.
Deadpool 2 hits theaters on May 18, 2018.
After surviving a near-fatal bovine attack, a disfigured cafeteria chef (Wade Wilson) struggles to fulfill his dream of becoming Mayberry's hottest bartender while also learning to cope with his lost sense of taste. Searching to regain his spice for life, as well as a flux capacitor, Wade must battle ninjas, the yakuza, and a pack of sexually aggressive canines, as he journeys around the world to discover the importance of family, friendship, and flavor – finding a new taste for adventure and earning the coveted coffee mug title of World's Best Lover.