'The Spy Who Dumped Me' Trailer: Mila Kunis And Kate McKinnon Are Tangled In A Conspiracy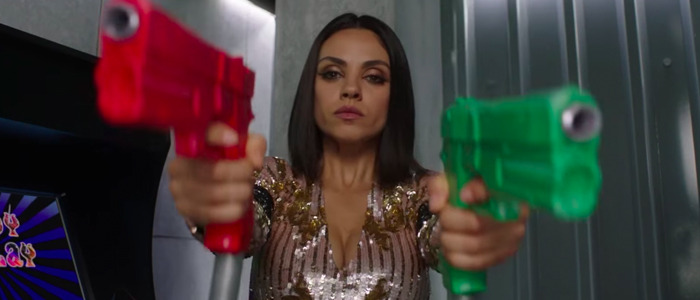 Paul Feig's 2015 action comedy Spy did a tremendous job of delivering both action and comedy, and it looks like director Susanna Fogel (Life Partners, Chasing Life) is looking to do the same thing with the upcoming film The Spy Who Dumped Me. This one stars Mila Kunis (Bad Moms) and Kate McKinnon (Ghostbusters, Saturday Night Live) as a pair of best friends who are thrust into an international conspiracy after they learn that one of their boyfriends is a secret agent.
The Spy Who Dumped Me Trailer
This looks pretty fun! It's not the kind of movie that's going to set the world on fire or change the game in any way, but hell, if something like The Hitman's Bodyguard can get a sequel, then we can sure as hell watch two funny women wandering around Europe, getting in over their heads, and barely surviving multiple attempts on their lives.
I've been a big Kate McKinnon fan ever since she joined the cast of SNL, so I'm here for any movie that really lets her loose like this. And Kunis, who recently anchored the two Bad Moms movies alongside Kristen Bell and Kathryn Hahn, seems to work really well in these small scale comedic roles instead of in larger blockbuster movies like Jupiter Ascending or Oz The Great and Powerful.
While the title implies that this is going to be a riff on James Bond movies, it's definitely closer in tone to something like Spy, which gave Melissa McCarthy a platform to deliver the best performance of her career. Will The Spy Who Dumped Me provide an opportunity for Kunis or McKinnon to reach those same heights? Probably not! But that's okay – it still looks like it'll be a lot of fun. Fogel pitched it as "Broad City meets Bourne," which sounds like a blast to me.
Justin Theroux, Gillian Anderson, Hasan Minhaj, Ivanna Sakhno, and Sam Heughan co-star.
Audrey (Mila Kunis) and Morgan (Kate McKinnon), two thirty-year-old best friends in Los Angeles, are thrust unexpectedly into an international conspiracy when Audrey's ex-boyfriend shows up at their apartment with a team of deadly assassins on his trail. Surprising even themselves, the duo jump into action, on the run throughout Europe from assassins and a suspicious-but-charming British agent, as they hatch a plan to save the world.
The Spy Who Dumped Me arrives in theaters on August 3, 2018.