New 'Deadpool 2' Promos Apologize To David Beckham, Strongly Defend Canada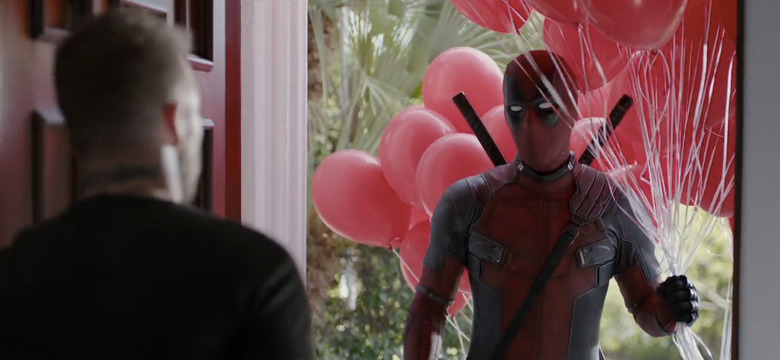 The marketing blitz for Deadpool 2 is in full swing. In case you didn't hear, there will be fan screenings of the sequel next week in major cities all over the country (and pretty much all the tickets are already gone). But besides that, Deadpool 2 is going on a major promotional tour across the world, and they're really pushing the European leg of the trip.
Two new Deadpool 2 promotional videos have emerged online, each geared towards our friends in Europe. One features the Merc with a Mouth apologizing for the joke made at the expense of soccer star David Beckham while the other has Red calling out Europe for hanging Canada out to dry. They're both quite amusing and feature Ryan Reynolds giving maximum effort.
Deadpool Apologizes to David Beckham
David Beckham apparently has nothing better to do than keep replaying the joke made about him in the first Deadpool. But lucky for him, the red-suited rascal has made a stop to apologize for the jab. However, Beckham doesn't seem to be up for his shenanigans, turning down a bunch of balloons and a mariachi band. But wouldn't you know it, it's World Cup tickets that get Beckham to accept the apology. Because those British people love soccer so goddamn much.
The best part of this video is the end when Beckham disregards even knowing about the joke but assumes Deadpool was apologizing for a bunch of Ryan Reynolds' worst movies: Green Lantern, R.I.P.D., Selfless, and the list goes on.
Deadpool is Coming to Europe
Finally, if you're constantly finding it hard to figure out where Deadpool ends and Ryan Reynolds begins, this video certainly won't help. The Merc with the Mouth puts in a strong defense for Canada as he announces that he's coming to pick a bone with Europe. If you happen to be in Paris, Rome, Madrid, London or Berlin over the next week, you might have a chance to spot Ryan Reynolds outside of that sweaty, smelly suit.
After surviving a near-fatal bovine attack, a disfigured cafeteria chef (Wade Wilson) struggles to fulfill his dream of becoming Mayberry's hottest bartender while also learning to cope with his lost sense of taste. Searching to regain his spice for life, as well as a flux capacitor, Wade must battle ninjas, the yakuza, and a pack of sexually aggressive canines, as he journeys around the world to discover the importance of family, friendship, and flavor – finding a new taste for adventure and earning the coveted coffee mug title of World's Best Lover.
Deadpool 2 hits theaters on May 18, 2018.