A New 'Jurassic World' Featurette Goes Inside 'Fallen Kingdom'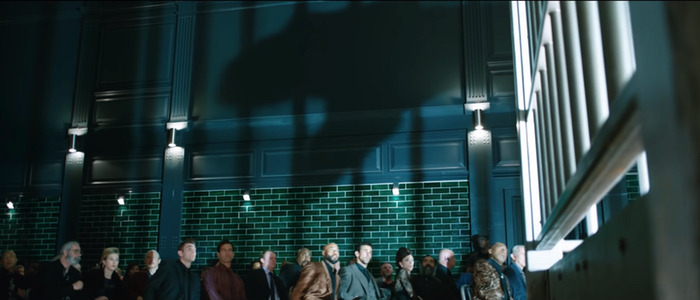 Are you ready to go inside Jurassic World: Fallen Kingdom? A new Jurassic World featurette takes you inside Fallen Kingdom, while hinting that this may be the strangest Jurassic film yet.
Jurassic World Featurette 
One thing this Jurassic World: Fallen Kingdom video gets: nostalgia is a hell of a drug. I've been on the fence about the new Jurassic World movie – I didn't hate Jurassic World, but I didn't love it either. And while some of the imagery in this new film looks stunning, I'm not so sure about the story. But hey, the minute Steven Spielberg popped up in this video talking about the first Jurassic Park, I got a pang of happiness. Curse you, manipulative nostalgic feelings!
Colin Trevorrow pops up to say that the first Jurassic World was a "celebration of something we all love" (is it, though?), and then adds that Fallen Kingdom is "something different." Continuing on that theme, director J.A. Bayona appears to say that Fallen Kingdom has much more of a "gothic" feel than previous Jurassic films. Seeing as the previous Jurassic films had 0% gothic feel to begin with, that's fairly surprising.
This featurette also makes the film look very similar to The Lost World: Jurassic Park, in which a rescue mission shows up on the island and has to confront a bunch of figures trying to use the dinosaurs for nefarious figures. Then everything changes – the film shifts from the island to a more secluded location. "The first part of his movie is classic Jurassic," says Bryce Dallas Howard. "And then you go into this far more dangerous world."
More dangerous than an island full of toothy kill-monsters? We'll see!
Ultimately, I think this featurette may have finally sold me on this damn movie. My biggest takeaway here is that Fallen Kingdom is going to be weird. Much weirder than pervious Jurassic movies. While there's no way in hell Fallen Kingdom will ever live up to Spielberg's original, it might just be different enough to stand on its own.
Jurassic World: Fallen Kingdom opens on June 22, 2018.
When the island's dormant volcano begins roaring to life, Owen (Chris Pratt) and Claire (Bryce Dallas Howard) mount a campaign to rescue the remaining dinosaurs from this extinction-level event. Owen is driven to find Blue, his lead raptor who's still missing in the wild, and Claire has grown a respect for these creatures she now makes her mission. Arriving on the unstable island as lava begins raining down, their expedition uncovers a conspiracy that could return our entire planet to a perilous order not seen since prehistoric times.