'The Rookie' Teaser: National Treasure Nathan Fillion Is Back On The Small Screen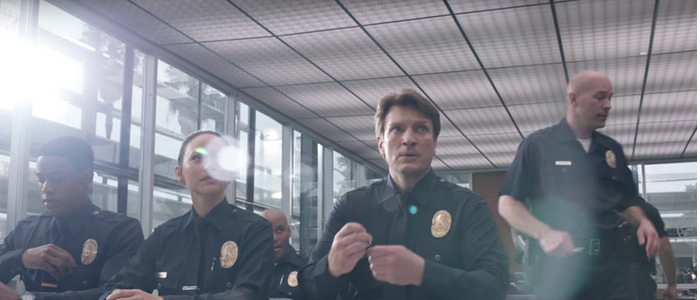 Nathan Fillion's got a new show, and we've got the teaser trailer to prove it. Fillion stars in The Rookie, about a 40-year-old rookie cop trying to learn the ropes of law enforcement. While this scenario, plus Fillion's involvement, may hint at comedy, this The Rookie teaser looks surprisingly serious.
National treasure Nathan Fillion is back at it again, starring in yet another TV show. The actor recently wrapped up eight seasons of Castle, and now he's ready for more with The Rookie.
The Rookie Teaser
In case that footage wasn't enough for you, here's the synopsis.
"Starting over isn't easy, especially for small-town guy John Nolan who, after a life-altering incident, is pursuing his dream of being an LAPD officer. As the force's oldest rookie, he's met with skepticism from some higher-ups who see him as just a walking midlife crisis. If he can't keep up with the young cops and the criminals, he'll be risking lives including his own. But if he can use his life experience, determination and sense of humor to give him an edge, he may just become a success in this new chapter of his life."
Like I said above, this premise really lends itself to comedy. It's like The 40-Year-Old Virgin, Who Is Also A Cop. But save for a shot at the beginning of Fillion clicking a pen, this teaser looks surprisingly serious. "I didn't become a cop to kill people!" Fillion's rookie shouts at one point as the camera goes in tight on his pained face.
"I had an experience on Firefly where everybody that worked on that show considered it the bar to which we could compare all of our other jobs," Fillion said in an interview with Deadline. "That was the benefit of Joss Whedon, who said 'I want great actors that can make this language sing and I want people I can potentially spend seven years with' and I benefited from that. I want The Rookie to be similar."
In addition to Fillion, The Rookie stars Afton Williamson, Eric Winter, Melissa O'Neil, Richard T. Jones, Titus Makin, Alyssa Diaz, and Mercedes Mason. The show comes from creator Alexi Hawley, who has worked on TV shows such as The Following, State of Affairs, Body of Proof, and Fillion's previous show, Castle. The show is produced by The Mark Gordon Company, who produced Designated Survivor, Grey's Anatomy and Quantico.
There's no date yet, but you can expect to see The Rookie on ABC this fall.