Now Stream This: 'Lawrence Of Arabia', 'L.A. Confidential', 'It', 'Demolition Man' And More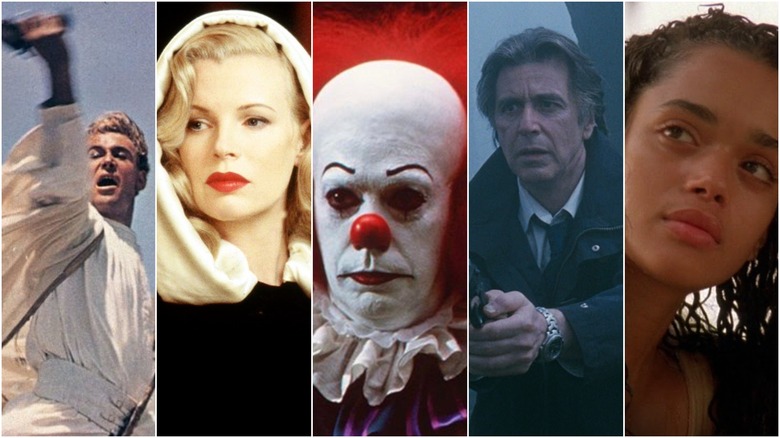 (Welcome to Now Stream This, a column dedicated to the best movies streaming on Netflix, Amazon, Hulu, and every other streaming service out there.) 
Here we are again. The time has come for an all-new edition of Now Stream This, your number-one source for streaming recommendations on the plethora of streaming services. This edition is loaded with films from several different eras – the '60s, the '80s, the '90s...even the terrible 2000s make an appearance. We have a David Lean masterpiece, a near-perfect neo-noir, an undervalued hard boiled horror movie, one of Christopher Nolan's less-talked-about movies, a goofy sci-fi action flick, and more.
These are the best movies streaming right now. Let's get streaming.
The Best Movies Streaming Right Now
Now Streaming on FilmStruck
Release Date: 1962Genre: Historical epicDirector: David LeanCast: Peter O'Toole, Alec Guinness, Anthony Quinn, Jack Hawkins, José Ferrer, Anthony Quayle, Claude Rains, Arthur Kennedy, Omar Sharif
Let's get this out of the way: watching Lawrence of Arabia on a TV will never compare to seeing it on the biggest screen possible. That said, David Lean's historical epic is so masterful that even if you do stream it via FilmStruck, you'll still be getting a great experience. Lawrence tells the tale of British Lieutenant T.E. Lawrence (Peter O'Toole) as he journeys to Arabia during World War I. Lawrence is supposed to serve as liaison between Arabs and the Brits in the fight against the Turks, but soon goes against his orders to embark on a dangerous adventure. This film is epic in every sense of the word – the scope is huge, the runtime is exhausting, and the story itself feels so heavy that it almost weighs you down. But Lean's direction and that stunning cinematography elevate it all. The real secret ingredient to making it all work is editor Anne V. Coates, who died this week at the age of 92. Coates finds cohesion in all this story, and also is responsible for creating the best match cut in film history.
For fans of: The Bridge on the River Kwai, Raiders of the Lost Ark, Kingdom of Heaven, camels.
Now Streaming on Netflix
Release Date: 1997Genre: Neo-noirDirector: Curtis HansonCast: Kevin Spacey, Russell Crowe, Guy Pearce, James Cromwell, David Strathairn, Kim Basinger, Danny DeVito
Few films approach perfection. But Curtis Hanson's L.A. Confidential is as near-perfect as any film can hope to get. Hanson and co-writer Brian Helgeland boil down James Ellroy's sprawling crime saga into an air-tight neo-noir about violent men in a violent world. The story focuses on three very different cops – ultra-violent hot head Russell Crowe, smug by-the-book Guy Pearce, and showboating Kevin Spacey* – who all get caught up in a murder mystery that goes deeper than first appearances suggest. L.A. Confidential is a master-class in plotting – each scene is in service of the next. If you've somehow avoided seeing this, or haven't seen it in years, I strongly urge you to catch up with it on Netflix. It remains pristine.
*Note: Yes, Kevin Spacey is in this. And he's excellent. But Spacey is also a very toxic personality now, and I felt I would be remiss to not at least provide fair warning here. If the very presence of Spacey is enough of a trigger for you as a viewer, you should probably skip this, since he has a substantial role.
For fans of: The Untouchables, Chinatown, American Gangster, Russell Crowe snapping the backs of chairs with his bare hands.
Now Streaming on Amazon Prime Video
Release Date: 1987Genre: Horror-mysteryDirector: Alan ParkerCast: Mickey Rourke, Robert De Niro, Lisa Bonet, Charlotte RamplingAlan Parker deftly blends horror and mystery with Angel Heart. Think of this as The Big Sleep meets Hellraiser, and you'll be half-way there. Mickey Rourke is a private eye who gets hired by a super-creepy Robert De Niro to track down a missing singer. The case gets Rourke's character mixed-up in voodoo and falling deeper into a pit of Satanic mystery. Often employing an abstract approach – long shadows, close-ups on blood splashes on walls, disembodied sounds – Parker conjures up a feeling of dread from the get-go. There's a twist here that you might see coming, but it doesn't matter. Angel Heart is so stylishly put together and so engaging that its obviousness is an afterthought.
Now Streaming on FilmStruck
Release Date: 1981Genre: Extra sweaty neo-noirDirector: Lawrence KasdanCast: William Hurt, Kathleen Turner, Richard CrennaSolo: A Star Wars Story screenwriter Lawrence Kasdan helms this steamy, sweaty flick about sex, murder and everything in between. William Hurt is a weak-willed lawyer who gets mixed up with ultra-hot, ultra-dangerous dame Kathleen Turner during a blistering heat wave. Body Heat is a throwback to 1940s noir, and as a result, Kasdan attempts to blend eras – not always successfully. The story is set in 1980s, but everyone acts like they're from three decades earlier. No matter: Body Heat is a hoot, and Turner sizzles on the screen as she gets Hurt mixed up in a plot to off her husband (Richard Crenna). Is there plenty of smooth jazz music? Yes, there is. To people pop-open their shirts one button at a time to reveal glistening skin? Oh boy, yes they do. Is there art deco everywhere? Absolutely. It's a blast.For fans of: Double Indemnity, The Postman Always Rings Twice, Red Rock West, William Hurt's mustache.
Now Streaming on Amazon Prime Video
Release Date: 2002Genre: ThrillerDirector: Christopher NolanCast: Al Pacino, Robin Williams, Hilary Swank, Maura Tierney, Martin Donovan, Nicky Katt, Paul DooleyInsomnia doesn't get brought up as much as Christopher Nolan's other films, but it should. Nolan's film is a remake of a 1997 Norwegian film, and while Nolan's take on the material isn't as hauntingly bleak as the original, it's still a worthy successor. Al Pacino is a weary cop who ends up in an Alaskan town where the sun is perpetually out. Pacino is trying to solve a murder, and he actually solves it pretty quickly, coming face to face with the killer – played by Robin Williams. Unfortunately, Pacino accidentally shot and killed his partner while trying to catch Williams, and now he's trying to cover it all up. Nolan brings his usual artistic chilliness to the film, conveying the weariness of Pacino's character via blurry, over-lit shots. Pacino is an actor who tends to go big and broad in his later years, but his performance here is refreshingly subdued. The real draw, though, is the late Robin Williams. Williams may have been primarily known for his comedy, but he might have actually been an even better dramatic actor. Here, he brings a shocking, unsettling cold-heartedness to his calculating killer character.For fans of: Memento, One Hour Photo, Following, a good night's rest.
Now Streaming on Shudder
Release Date: 1990Genre: Horror miniseriesDirector: Tommy Lee WallaceCast: Harry Anderson, Dennis Christopher, Richard Masur, Annette O'Toole, Tim Reid, John Ritter, Richard Thomas, Seth Green, Jonathan Brandis, Tim Curry
Despite what anyone may say, the It miniseries isn't as good as the 2017 film adaptation. For one thing, it's a TV movie, and it really feels like a TV movie. None the less, Halloween III director Tommy Lee Wallace manages to craft some genuinely creepy nightmare fuel here – I'm still traumatized from that damn scene where a photograph winks at a character. Yet even when It is at its hokiest, it's always elevated by the go-for-broke performance from Tim Curry. Curry's plays the film's big bad Pennywise the Clown with a showmanship that Bill Skarsgård avoided in his 2017 take, and it makes for a different, more entertaining monster. You likely know the story: a group of 7 friends face off against an ultimate evil twice – once when they're kids, then years later when they're adults. The first half of the film, focusing on the kids, is much better than the first. But now you can stream the whole thing thanks to Shudder.
For fans of: It (the 2017 film), Salem's Lot, Pet Sematary, skeleton puppets.
Now Streaming on Hulu
Release Date: 1993Genre: Goofy-ass sci-fi actionDirector: Marco BrambillaCast: Sylvester Stallone, Wesley Snipes, Sandra Bullock, Nigel Hawthorne
Oh boy, this movie is so stupid. But that's what makes it so fun! This bullshit-laden goofball extravaganza takes the philosophical bent of Aldous Huxley's novel Brave New World and adds some 'splosions! Sylvester Stallone is a no-nonsense cop who gets tricked into killing a bunch of civilians by his arch nemesis, played with over-the-top glee by Wesley Snipes. As a result, Stallone (and Snipes) are both sent to ice jail. Okay, that's not what it's called, but both men are frozen in these ice pods. When Snipes' character gets thawed out in the super-far-future date of 2032, he breaks free and starts wrecking havoc. The world of 2032 has become super peaceful, super nice, and super mellow – so no one knows how to handle a criminal like this. The only answer is to thaw Stallone out and have him try to save the day. It's dumb, but god almighty do I love it. If you need a big, dumb, loud movie to take your mind off things, this is it.
For fans of: Cobra, Tango & Cash, RoboCop, trying to figure out how to use the three seashells.
Now Streaming on Shudder
Release Date: 2012Genre: HorrorDirector: Scott DerricksonCast: Ethan Hawke, Juliet Rylance, Fred Thompson, James Ransone, Clare FoleySinister takes the easy route far too often, and it relies way too much on BIG, LOUD, BOOMING JUMP SCARES. But gosh darn it, this is one scary modern horror film. Scott Derrickson understands that grainy old film footage, unsolved murders, power outages, and bugs and snakes scurrying around in your attic are all pretty damn scary, and he throws them all up on the screen. Ethan Hawke is a true crime writer who moves his family into a house where another family was killed, and tries to solve the mystery. What he discovers is a supernatural case that involves a killer who captures his victim's final moments in a series of highly-disturbing snuff films. The best moments of this film consist of simply watching Hawke (who gives this part his all) sitting back and watching murder movies. Sinister starts to run out of steam near its conclusion, but by then we're too terrified to even care.For fans of: Insidious, 8MM, In The Mouth of Madness, Vincent D'Onofrio literally Skyping a performance in.
9. Bobby Kennedy for President
Now Streaming on Netflix
Release Date: 2018Genre: Docu-seriesDirector: Dawn PorterCast: Bobby Kennedy
I'll be honest: I only had a cursory knowledge about Bobby Kennedy. I of course knew who he was, and how he died. But beyond that, my knowledge was limited. Probably because when people make movies and documentaries about the Kennedys, they tend to focus on Bobby's Presidential brother John. So the Netflix docu-series Bobby Kennedy for President ended up being an insightful experience. Dawn Porter's doc makes great use of archive footage – much of it never before seen – to take viewers back to Kennedy's days in politics. Kennedy's personal life is mostly glossed over – his wife and many children get only a casual mention. The focus is primarily on his days as Attorney General, later followed by his brief, tragic bid for the White House. The show also points out the surprising mysteries surrounding his assassination. It's an all-together handsomely mounted production, full of info you might not have even been aware of it. There are also several excellent, ultimately touching interviews with politician and civil rights leader (and Kennedy campaign worker) John Lewis.
For fans of: Primary, Medium Cool, Adventures on the New Frontier, escaping our own depressing political landscape for another depressing political landscape.
Now Streaming on Hulu
Release Date: 2017Genre: Medieval action thrillerDirector: Brendan MuldowneyCast: Tom Holland, Richard Armitage, Jon Bernthal
We may never see the current Spider-Man and Punisher on screen together in-character, but we can watch Pilgrimage. This film features both Tom Holland and Jon Bernthal, and if that's not enough to hook you, maybe this will: this is a medieval action thriller. Oh, hell yes. The film concerns a group of 13th century monks on a journey to transport a mysterious, holy relic to Rome. But there's more to the relic than meets the eye, and soon everyone is in great danger. Holland plays a fresh-faced, very young new monk, while Bernthal plays a brooding, ass-kicking mute mystery man. All sorts of brutal violence and harshness follows. I don't remember anyone talking about Pilgrimage when it came out last year. Which is a shame, because the film is a surprisingly lean and mean action-drama. If you're in the mood to watch Jon Bernthal frown and then smash some heads, here you go.
For fans of: Black Death, Centurion, Ironclad, lots of mud and dirt.