Daily Podcast: Arrested Development, Jordan Peele, Harley Quinn, Hollywood Salaries, Don Quixote, Friday Night Lights And Edge Of Seventeen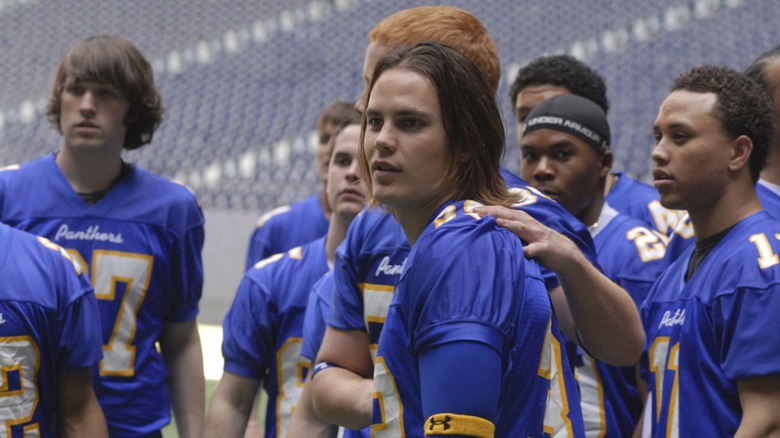 On the May 9, 2018 episode of /Film Daily, /Film editor-in-chief Peter Sciretta and writers Hoai Tran Bui and Chris Evangelista to talk about the latest film and TV news, including Arrested Development problems, Jordan Peele's next movie Us, new details on the Harley Quinn movie, Hollywood salary info revealed, more bad news for Terry Gilliam and The Man Who Killed Don Quixote, Friday Night Lights is getting another movie and Edge of Seventeen is getting a tv series. We'll also answer a very short e-mail at the end of the episode about the marketing of the Spider-man Homecoming sequel.You can subscribe to /Film Daily on iTunes, Google Play, Overcast, Spotify and all the popular podcast apps (here is the RSS URL if you need it).
In the News:
Jordan Peele Announces New Horror Movie 'Us', Lupita Nyong'o, Elisabeth Moss & Winston Duke In Talks To Star
Robert Downey Jr. Was Paid $10 Million for 8 Minutes of 'Spider-Man Homecoming' and Other Hollywood Salary Info
David Gordon Green Will Direct the 'Friday Night Lights' Reboot Movie, Which is Happening For Some Reason
'The Edge of Seventeen' Will Get a Spin-Off as a YouTube Red TV Series
In The Mailbag:
Austin Price from Baltimore Maryland writes in, "On your May 7th episode you talked about how Sony was worried about Marvel and infinity War killing off Spider-Man and how they are going to do the advertising for the next Spider-Man movie which comes out roughly four months after infinity War 4. The question I have is is advertising even that important anymore. I hear an Infinity War/Spiderman movie is going to be out in 2 months and I'm there. I don't need advertising 4 another movie I would say the same for a Star Wars movie I know it's coming out I don't need to see it trailer all I need to see is the movie. Wanted to get your thoughts on this. Please keep up the good work been listening to you since episode 3."
Paul I wonders if the trailer could "tease the disappearance of Spider-Man and the chaos that is left behind.  Perhaps Tony Stark hands his Spider-Man suit from Infinity War to someone else.....it almost negates the need for any special abilities?  It doesn't have to reveal how he returns until full trailers after the release of avengers 4 if he returns at all! Is it possible that Marvel have duped us all and have recast a New Spider-Man such as Miles Morales?"
To submit questions to the mailbag, send them to peter@slashfilm.com. Please mention your name and general geographical location in case we mention the question on the air.All the other stuff you need to know:You can find more about all the stories we mentioned on today's show at slashfilm.com, and linked inside the show notes./Film Daily is published every weekday, bringing you the most exciting news from the world of movies and television as well as deeper dives into the great features from slashfilm.com.You can subscribe to /Film Daily on iTunes, Google Play, Overcast, Spotify and all the popular podcast apps (RSS).Please feel free to send your feedback, questions, comments and concerns to us at peter@slashfilm.com. Please leave your name and general geographic location in case we mention the e-mail on the air.Please rate and review the podcast on iTunes, tell your friends and spread the word!Thanks to Sam Hume for our logo.