'Stranger Things': Hawkins' New Lifeguard Plays A Key Role In Season 3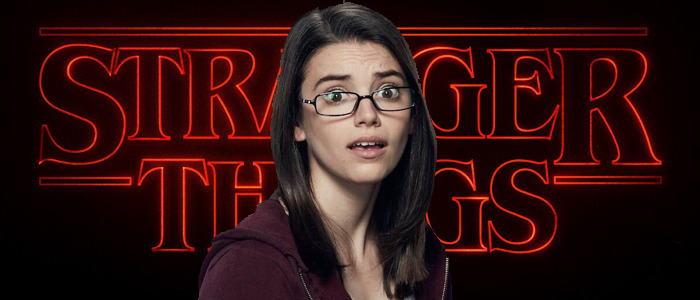 Actress Francesca Reale has been cast in a significant recurring role in the third season of Netflix's sci-fi throwback series Stranger Things (stylized title: Stranger Things 3). Season 3 is set in the summer of 1985, and when the citizens of Hawkins, Indiana head to the pool to escape the summer heat, they're going to need someone to keep an eye on them. That's where Reale comes in. Read more about the new Stranger Things lifeguard below.
Deadline says Reale will play a character named Heather, "a popular lifeguard at the Hawkins Community Pool who becomes the centerpiece of a dark mystery."
The idea of a dark mystery involving a pool instantly makes me think about Barb from season 1, who was swiped by the Demogorgon in an empty pool outside Steve Harrington's house. But since a major subplot of season 2 was about dealing with Barb's death, I doubt the show would be interested in repeating that type of plot point again. Maybe the dark mystery has to do with Heather's past, or maybe the show will just throw all of its good will right out the window and have the Demogorgon (or some other Upside Down-creature) pose as this new character and trick humans into thinking it is one of them. Who knows what evil schemes those creatures are plotting!
Reale is relatively new to acting, having appeared in a few shorts since 2013 and playing a supporting role on another Netflix show, Haters Back Off! Her casting in Stranger Things season 3 serves as a bit of a reunion for her, since she recently finished filming an indie feature called Yes, God, Yes with her future Stranger Things co-star Natalia Dyer, who plays Nancy Wheeler on the sci-fi series.
Stranger Things 3 will see the return of all the major actors from the first two seasons: David Harbour as Chief Jim Hopper, Winona Ryder as Joyce Byers, Millie Bobby Brown as Eleven, Finn Wolfhard as Mike Wheeler, Gaten Matarazzo as Dustin Henderson, Caleb McLaughlin as Lucas Sinclair, Noah Schnapp as Will Byers, Charlie Heaton as Jonathan Byers, Joe Keery as Steve Harrington, Dacre Montgomery as Billy, and Sadie Sink as Max.
Reale is joining a handful of other actors new to the show for season 3: Cary Elwes as Mayor Kline, Jake Busey as a journalist named Bruce, and Maya Thurman-Hawke as a mysterious "alternative girl."
Stranger Things season 3 doesn't have an official premiere date yet, but it may not hit Netflix until 2019.