David Gordon Green Will Direct The 'Friday Night Lights' Reboot, Which Is Happening For Some Reason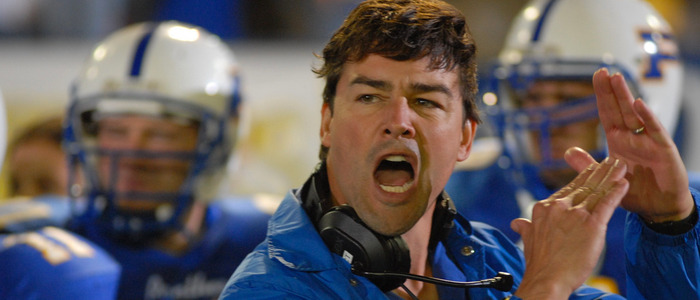 For reasons beyond my comprehension, Universal is getting ready to reboot Friday Night Lights into a new movie. And they just found their director: David Gordon Green, helmer of the upcoming Halloween reboot. Clear eyes, full hearts, why is this happening?
Remember Friday Night Lights? The book that became a movie that became a TV show? It's back, in reboot form. Variety reports that Halloween and Your Highness director David Gordon Green has been tapped to helm the new Friday Night Lights reboot. The film is neither a sequel to the 2004 Peter Berg film starring Billy Bob Thornton, nor is it a continuation of the acclaimed TV series that starred Kyle Chandler. Instead, Universal are going back to the source material – H.G. Bissinger's book – to tell a new story.
The big question here is: why? Look, I get it – Friday Night Lights has "brand recognition", and it's a lot easier for a studio to slap a familiar name on a property than to take a risk on something new. But this seems particularly strange. Most people tend to agree that the TV series adaptation was near-perfect, and to now reboot the whole thing as a new movie that ignores the series completely seems ill advised. On top of all that, the series didn't even end that long ago – the final episode aired in 2011.
Per Variety, Universal has been mulling over either a sequel to the 2004 film, or a movie that would feature the TV characters. Instead, they've decided to create something entirely new from the book. Here's the book synopsis:
Return once again to the timeless account of the Permian Panthers of Odessa—the winningest high-school football team in Texas history. Socially and racially divided, Odessa isn't known to be a place big on dreams, but every Friday night from September to December, when the Panthers play football, dreams can come true.
With frankness and compassion, H. G. Bissinger unforgettably captures a season in the life of Odessa and shows how single-minded devotion to the team shapes the community and inspires—and sometimes shatters—the teenagers who wear the Panthers' uniforms.
Robert Schenkkan, who wrote Hacksaw Ridge, penned the latest draft of the script for the Friday Night Lights reboot.
So will this work? Who knows. I imagine fans of the TV series might be a bit put-off by the fact that this new film is ignoring it. Green is a very good director, and I have no doubt he'll do something interesting with this material. But I still can't help but think this whole thing is rather strange.