'The Edge Of Seventeen' Will Get A Spin-Off As A YouTube Red TV Series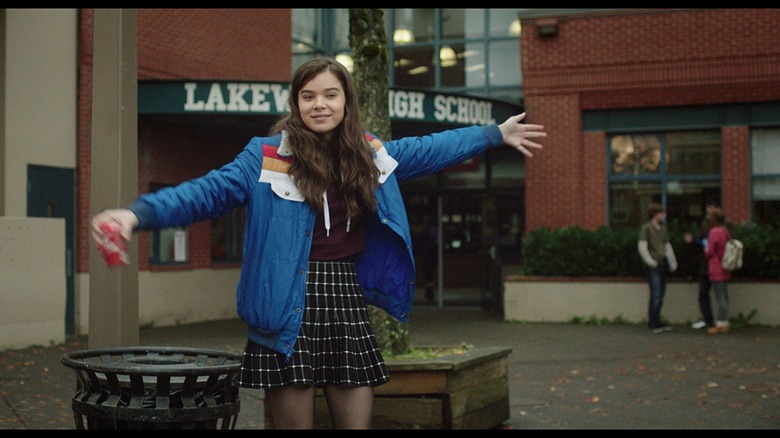 The teen comedy continues its move to the small screen. Once a common staple at the movie theater, the high school comedy has been slowly disappearing from the big screen and appearing on Netflix or other streaming sites. There are a few exceptions. Love, Simon this year and The Edge of Seventeen in 2016 brought the teen comedy back to theaters in full force. But now The Edge of Seventeen, easily one of the greatest high school comedies of the past decade, is making the move to TV in the form of a spin-off.
The Edge of Seventeen is getting a TV spin-off set to air exclusively on YouTube Red, according to The Hollywood Reporter.
The series will be based off of the acclaimed, absolutely wonderful film starring Hailee Steinfeld as a high school outcast whose only friend (Haley Lu Richardson) starts dating her popular older brother (Blake Jenner), causing her to spiral into a pit of self-destruction and depression. It's a brutally honest and brutally funny movie that features one of Steinfeld's best performances of her career, for which she earned a Golden Globe nod. The film also starred Kyra Sedgwick and Woody Harrelson.
But Steinfeld won't be starring in the TV spin-off, which will feature an entirely new cast. The YouTube comedy, which will be penned by Annabel Oakes (Amazon's Transparent, Netflix's Atypical) and executive produced by Edge of Seventeen writer-director Kelly Fremon Craig, will "follow a high school student and her best friend as they navigate the relationships, feelings and realities of being a teenage girl," THR reports. YouTube says the series will "subvert standard teen show tropes."
YouTube head of comedy Dustin Davis went on to praise the original film as well as build excitement for Oakes' and Craig's collaboration.
"Kelly Fremon Craig created an honest, hilarious and heartbreaking film with The Edge of Seventeen. It went beyond most teen movies, and was able to captivate an audience beyond those in high school. We're excited to work with the entire team at STXtv and have Annabel and Kelly create a series for YouTube Red using themes from the film as inspiration."
Edge of Seventeen will be the second high-profile project for YouTube Red, which seems to be making strides to become a formidable competitor against Netflix, Hulu, and Amazon Prime in the streaming market. The Karate Kid sequel Cobra Kai, starring Ralph Macchio and William Zabka, debuted last week to rave reviews and earned the streaming service plenty of increased interest.
I'm honestly a little skeptical about an Edge of Seventeen spin-off, simply because the original film was so damn good. It was a remarkable film that earnestly dealt with depression and social pressure, while balancing a healthy helping of raunch comedy. And while its premise works well with a two-hour film, I wonder how it could translate to a multi-episode TV series. I'm guessing that The Edge of Seventeen's premise will merely be a launchpad for a completely different character-driven story — along the lines of 10 Things I Hate About You or Parenthood. And with streaming services reviving the teen comedy genre for a new generation, perhaps YouTube Red is the best place for a new take on The Edge of Seventeen.