Anne V. Coates, Legendary Editor Of 'Lawrence Of Arabia' And Many More, Has Died At 92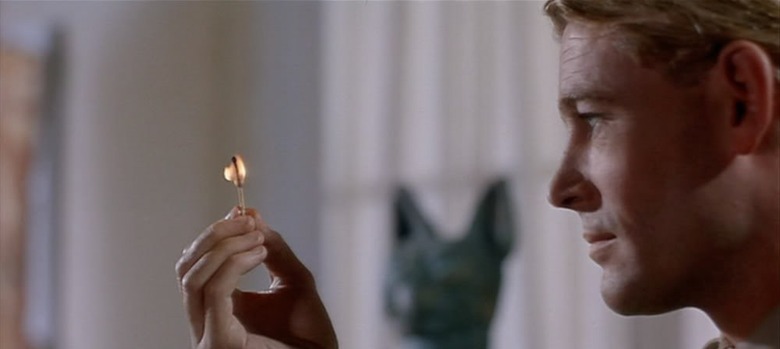 Anne V. Coates, the editor responsible for the single-greatest match cut in movie history, has died at the age of 92. Coates' career spanned 60 years, in which she edited scores of films, including Lawrence of Arabia, Out of Sight, and many, many more.
The greatest match cut in the history of film was an accident. It happens early in David Lean's masterpiece Lawrence of Arabia. T.E. Lawrence (Peter O'Toole) holds a burning match inches away from his face. His stare lingers on the flame as the match burns down, blackening as the fire gutters out. Before that flame can be fully extinguished, Lawrence blows it out.
And then we're in the desert.
The sun is a sliver of fire on the horizon, expanding, growing, glowing. The heat practically radiates off the screen. The landscape is as black as the burnt head of that match. And then the soundtrack comes up.
And it almost didn't happen.
Lawrence of Arabia
"It was in the script as a dissolve, but we saw it cut together before we had the optical delivered," editor Anne V. Coates recalled many years later. "We looked at the job and said, 'My, God it worked fantastic!' We tried taking a frame off here and there. David said to me in the end, 'That's nearly perfect. Take it away and make it perfect.' I literally took two frames off of the outgoing scene and that's the way it is today."
Take it away and make it perfect.
And so she did. Somehow. "It wasn't a momentous thing to us," Coates said. "It was only when somebody rang me at three o'clock in the morning from Australia to ask me what I was thinking about when I did that cut; I said, 'I didn't have any idea.' Several direct cuts like that were originally my idea because David hadn't seen the La Nouvelle Vague French direct cutting. I got him to see a couple of films. He loved it and did it even better. We didn't over do it."
What is it about this match cut that resonates so damn much? Even if you don't like Lawrence of Arabia, there's something about that one specific cut that lingers. It has the power to chill; the power to knock you flat on your back then sit right up and ask, "What was that?" It's a shift through time; through space. It transports us from where we thought we were to somewhere we've never been. It's magic.
Movie editing is a tricky thing. Some will tell you the very best editing is editing you don't notice at all. And that's probably true. But you notice the match cut in Lawrence. How can you not? It burns as bright as that orange ball of fire creeping up above the blackened horizon. It's in your face, right before your eyes, impossible to ignore.
Anne V. Coates may not be a household name the way filmmakers are. But her impact on film is undeniable. Even if she had done nothing else following Lawrence, that match cut alone would be enough to cement her place in history. And it might not have ever happened had she not found her way into the industry. "In the early Fifties it was extremely difficult to get into films in any capacity," she said. "You had to be in the union to work in films and you couldn't get a job in films until you were in the Union! But there were certain back door ways in – via working in the laboratories, working in a small educational company or the way I got in by getting a job as a gofer in religious films – doing projection, sound and helping in the cutting rooms of the library which sent out films to church film societies. And making tea of course!"
And from that humble beginning we now have great things. We have that match cut. And we have this scene from Out of Sight – a dance done while sitting; a series of cuts from wide to close; from long shots to inserts; from what is and what could be.
Out of Sight
"When we did Out of Sight we did a lot of very tricky cutting," Coates said. "Very interesting, a lot of which stayed in. I said to (director) Steven (Soderbergh) one day, "I think we may have overdone it. It's so jerky and I don't think the audience will be able to follow it." We had him going to three different prisons and all sorts of things that aren't in the finished film, so we went back in and simplified it all, because when we looked at it we realized that each scene in and of itself was very clever and good and interestingly cut, but all together it became a bit of a mish mash, so we simplified it."
So we simplified it.
Take it away and make it perfect.