Movie Mixtape: 6 Movies To Watch With 'Life Of The Party'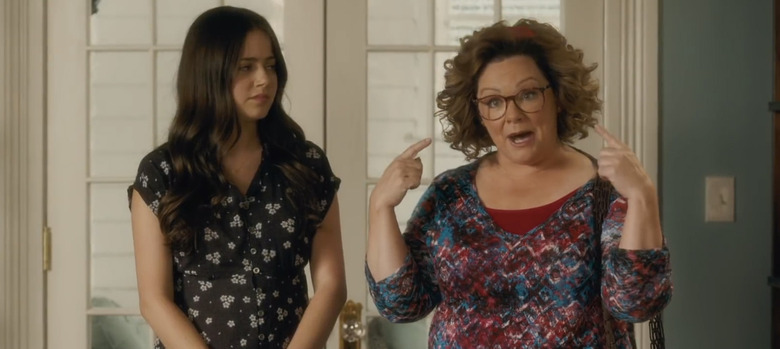 Melissa McCarthy goes back to school this weekend in Life of the Party, which fits squarely into the McCarthy comedy mold that has made her approximately a quadrillion dollars. A genre she's made her own, becoming one of the few genuinely new movie stars in an era where the intellectual property is the star. A genre that's best described as crassly heartfelt.
It may be formulaic, but it's also weirdly subversive, if only because there aren't many movies in the grand ol' college party flick tradition that focus on women. At least not many where the leading ladies aren't hiding in their sorority house from a masked slasher or fighting Seth Rogen.
Also, Revenge of the Nerds is super creepy, y'all. So here are 6 movies to pair with McCarthy's new vehicle for telling jokes about her vagoogle.
Back to School (1986)
Life of the Party's concept, including McCarthy's divorcee character Deanna going to the same school as her mortified daughter, feels cribbed directly from Rodney Dangerfield's raucous collegiate comedy. The big flip is that Deanna is trying to pick up the pieces of her life while Dangerfield's Thornton Melon is an ultra-rich loud mouth who's in college specifically to help his sad sack son get some guts.
It's the law of the land that modern comedies have a surprise celebrity cameo thanks to I Love You, Man and The Hangover (I won't spoil Life of the Party's), but Back to School was way ahead of the curve on this one, featuring the best Kurt Vonnegut gag in film history. Plus: Billy Zabka as a bully!
Horse Feathers (1932)
There was a boom of college movies in the 1930s. Almost every major screen personality found there way to campus, including the Marx Brothers. Like all of their movies, the plot is hardly the point (the title is even a slang term for "nonsense"), but Horse Feathers sees Groucho as the president of a school, Harpo and Chico as local idiots, and it all ends with a big football game with some questionable rules violations.
It's fun to pair this with any modern college comedy, not to see what college was realistically like 90 years ago, but to see how it was mocked.
Accepted (2006)
Instead of using this slot for Old School (more middle-aged people finding their college groove!) I'm using it for the wildly underrated film where Justin Long invents a university with help from Oscar nominee Jonah Hill. You should ask him about his wiener.
After getting rejected from every college he applied to, Bartleby Gaines (Long) creates a fake acceptance letter from a fake school which snowballs until he's running an arguably legitimate No-Grade college. The con is impressive as the movie's ability to include the classic trope of battling preppy frat douches and sneak in an uplifting message about being true to yourself while Lewis Black screams a bunch.
Damsels in Distress (2011)
On the other side of the Jello shots, Whit Stillman's knowing riff on campus life revolves around the shining star that is Greta Gerwig. She leads a polished cabal of young women who date losers in order to help them reach their full potential and run a suicide prevention center.
A wry response to the beer-swilling frat genre, it's also a hang out movie that lives (or dies if you're a cretin) on Stillman's witty dialogue and the smirking perfection of its cast, which features Analeigh Tipton, Aubrey Plaza, Alia Shawkat, and Adam Brody in addition to Gerwig.
The Boss (2016)
There's nothing wrong with formula. Life of the Party is the third movie that McCarthy has made with husband Ben Falcone at the helm where a woman facing crisis makes a major life change. The first was Tammy, which no one should recommend you watch. The second was The Boss, where McCarthy plays a Dangerfield-esque entrepreneur who goes to jail and has to restart her life late in the game. Curiously, it and Life of the Party both feature gags where McCarthy's character hits someone with a ball while playing a racket-based sport.
Instead of college, she finds the Girl Scouts and hustles the cookie-selling game like a, well, you know. It's essentially How Stella Got Her Groove Back with a lot of McCarthy falling down and violent adolescent girl fights.
The House Bunny (2008)
So, there aren't many movies about women finding their way in college, but The House Bunny bucked that trend a decade ago. It did it with the Trojan Horse of a Playboy hook, but the result was incredibly sweet. By now the plot should sound familiar: Anna Faris plays a model kicked out of the infamous mansion who seeks acceptance with a local sorority whose members crave her ability to get guys.
It's a time capsule of then-upcoming talent. Emma Stone, Kat Dennings, Katharine McPhee, and Rumer Willis (as well as a crazy amount of real-life cameos). I'll forever argue that Faris, with a Lucille Ball-like talent for faking bobbleheadedness, is profoundly underrated, and her comic chops steeped in feigned obliviousness are on fire here.
The Mix
The popularity of college movies waxes and wanes, but the genre will never die, and we've reached a point where the College Mid-Life Crisis film is a legitimate subgenre. People in their 40s love going to frat parties, accidentally eating pot-laced desserts, and learning who they really are.
What movies are you watching with Life of the Party?