Stephen King Adaptation 'In The Tall Grass' Headed To Netflix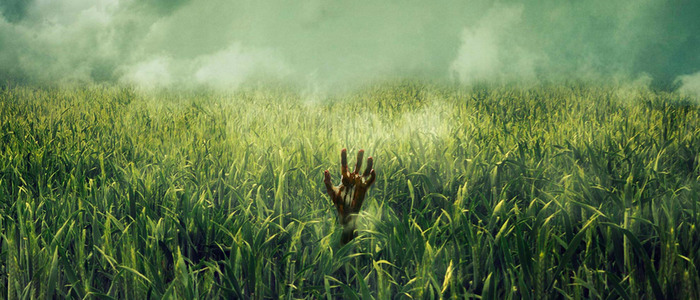 The Stephen King adaptation news can't stop, won't stop. Splice director Vincenzo Natali has been trying to adapt the Stephen King/Joe Hill short story In The Tall Grass into a film since 2015. Now comes word that the In The Tall Grass movie is finally moving forward, at Netflix.
Netflix wants to stay in the Stephen King business, and who can blame them? Interest in adaptation of King's work is at an all-time high thanks the success of last year's It. Netflix had two King adaptations of their own last year – Gerald's Game and 1922. Soon, they'll have another: In The Tall Grass. Deadline reports a film adaptation of the short story written by King and his son Joe Hill is headed to the streaming service, with Vincenzo Natali attached to helm and Westworld's James Marsden in talks to star.
Natali has actually been trying to get In The Tall Grass made for a few years. The project was first announced in 2015, with the filmmaker saying:
"Who would think that grass could be frightening? Trust Stephen King and Joe Hill to find a way. They have transformed an otherwise innocuous Kansas field into a stage for some of the most disturbing horror fiction I have ever read."
After that announcement, however, the production failed to materialize. Now, Netflix is going to make it happen. Natali had also previously pitched an adaptation of It, complete with concept art (that film was ultimately made by Andy Muschietti).
PITCH IMPERFECT 2: #Pennywise designs from #StevenKing's #It: Good drawings by #AmroAttia, not so good ones by me pic.twitter.com/BfbG03rlkH

— Vincenzo Natali (@Vincenzo_Natali) June 1, 2015


In The Tall Grass is a short, genuinely fucked-up story with one whopper of an ending. I'm not exactly sure the plot – as it is now – lends itself to a film adaptation, but I trust Natali to find a way. The story involves a brother and sister who stop a rest stop near a field of overgrown grass. The siblings hear a voice calling for help from inside the field, and venture in to assist. Needless to say, bad stuff happens. Here's how Natali described the story himself back in 2015:
"When they go to assist the boy, they discover that strange forces are at work. Space is warped so that one minute they are together and the next they are miles apart. The field is an ineffable maze from which there is no escape. Before long they have lost their bearings and each other. But they are not alone..."
In The Tall Grass joins an increasing number of King adaptations currently in the works. In addition to It Chapter 2, there's also Pet Sematary, Hulu's Castle Rock, The Long Walk, The Tommyknockers, a 10-hour miniseries adaptation of The Stand, The Bone Church, and Amazon's possible Dark Tower series. Then there's the chance Steven Spielberg might finally make The Talisman, a project he's been developing for decades.
As your resident Stephen King expert, I'll be tracking all these projects obsessively and updating you on their progress accordingly.