Keanu Reeves And Alex Winter Will Officially Reunite The Band For 'Bill And Ted 3'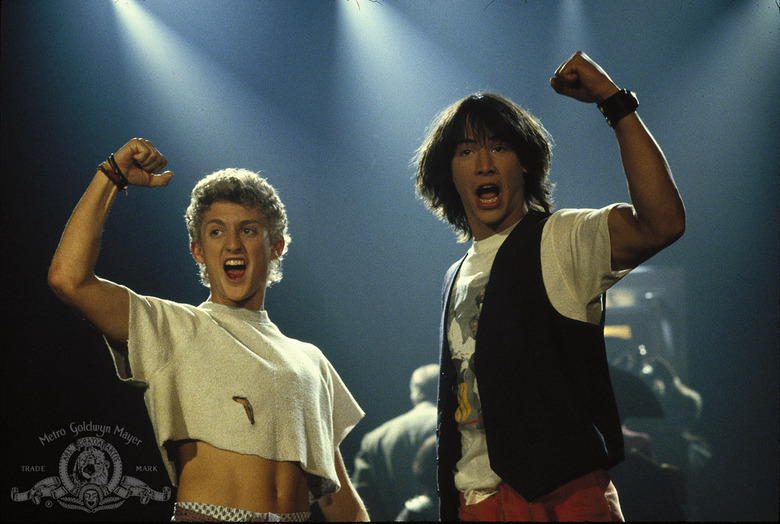 Wild stallions couldn't stop Theodore Logan and William Preston from reuniting. Now, Wyld Stalyns will finally return for Bill and Ted 3. The third Bill and Ted film is officially confirmed to be in the works, with Keanu Reeves and Alex Winter set to reprise their roles as the time-traveling heavy metal lovers. Finally, some truly excellent news.
Bill & Ted Face the Music, the long-in-the-works sequel to the 1989 comedy classic Bill & Ted's Excellent Adventure and its follow-up, 1991's Bill & Ted's Bogus Journey, is officially in development.
That will leave a nearly 30-year gap between the last Bill and Ted film and its upcoming sequel. But despite the long, long wait between movies, Keanu Reeves and Alex Winter are both set to reprise their iconic roles as time-traveling idiots with hearts of gold, "Ted" Theodore Logan and "Bill" S. Preston Esq., respectively.
The film will follow Bill and Ted struggling with middle age, and yearning to recapture the days in their youth when they skipped school, rocked out to heavy metal in their band Wyld Stalyns, and were saddled with a quest to save the future (and ace their history exam) by embarking on a journey through space and time. Here is the current synopsis for Bill & Ted Face the Music:
When we last met Bill and Ted they were time-traveling teenagers trying to pass history class and win the battle of the bands. Once prophesized to save the universe with their rock and roll, middle age and the responsibilities of family have caught up with these two best friends who have not yet fulfilled their destiny. They've written thousands of tunes, but they have yet to write a good one, much less the greatest song ever written. With the fabric of time and space tearing around them, a visitor from the future warns our heroes that only their song can save life as we know it. Out of luck and fresh out of inspiration, Bill and Ted set out on a time travel adventure to seek the song that will set their world right and bring harmony in the universe as we know it. Together with the aid of their daughters, a new crop of historical figures, and some sympathetic music legends, Bill and Ted find much, much more than just a song.
Original creators Chris Matheson (Imagine That) and Ed Solomon (Men in Black, Mosaic, Now You See Me) have penned the script, which they have been teasing for several months. Dean Parisot (Galaxy Quest, Red 2, Fun With Dick and Jane) is confirmed to direct.
It's finally happening everyone! After Matheson and Solomon relentlessly teased the Bill and Ted 3 script for months, and Reeves and Winter coyly hinted at the development of the sequel, we finally have confirmation that the third Bill and Ted film is in development. It will be incredible to return to these pure, idiotic characters who inspire only joy, even as they befriend Death and potentially ruin history. And better yet, we'll get to see Reeves shed the gruff, brooding persona that he's worn so well in the amazing John Wick series (which the workaholic is currently filming too!) and go back to the stoner persona that first launched him to fame. I just want him to crack a smile again.
Additional and a release date haven't been confirmed yet for Bill & Ted Face the Music.