First 'John Wick Chapter 3' Photo Fires Up The Neon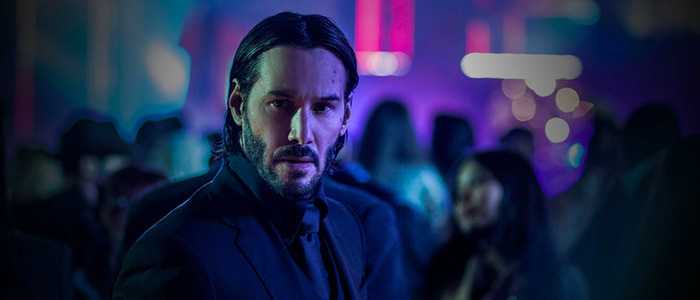 John Wick Chapter 3 has commenced filming, and we have the set photo to prove it. Cinematographer Dan Laustsen posted a photo from day two of filming the Keanu Reeves sequel, and it's predictably stylish and cool. See the John Wick Chapter 3 photo below.
Are you ready for John Wick Chapter 3? Lord knows I am, but we're all going to have to wait a little while – the film doesn't arrive in theaters for a full year. In the meantime, we can take comfort in this gloriously stylish set photo provided by cinematographer Dan Laustsen.
Here we see the silhouette of Keanu Reeves' John Wick as he stands on a rainy New York City street. Is there neon? You bet your ass there's neon. It wouldn't be a John Wick movie without neon, baby.
Chad Stahelski is helming the sequel, with a script from screenwriter Derek Kolstad. Of course, Keanu Reeves is back as the dog-loving hitman John Wick. At the end of John Wick Chapter 2, John pretty much torched his credibility by breaking a very big hitman law: he murdered someone within the hallowed halls of the hitman hotel the Continental. As a result, he's now a wanted man. Everyone in New York City will be gunning for John – literally. An official synopsis was released during CinemaCon, and while it really doesn't tell us much – it's essentially a recap of the ending of the second film – we'll take what we can get:
"John Wick (Keanu Reeves) is on the run for two reasons... he's being hunted for a global $14 million dollar open contract on his life, and for breaking a central rule: taking a life on Continental Hotel grounds. The victim was a member of the High Table who ordered the open contract. John should have already been executed, except the Continental's manager, Winston, has given him a one-hour grace period before he's "Excommunicado" – membership revoked, banned from all services and cut off from other members. John uses the service industry to stay alive as he fights and kills his way out of New York City."
Beyond that, we still don't know a whole lot about the film. We know that Keanu Reeves will be running around, wearing a suit and shooting some guns. And we know it'll be stylish-as-hell. Otherwise, we also know that the events of Chapter 2 were intended to directly set up Chapter 3. "The whole purpose of John Wick: Chapter 2 was to get us into John Wick 3," director Chad Stahelski has said. "All the cool stuff we showed you in 1 and 2—we call it the service industries [for assassins]—we wanted to take that away. John Wick was about showing you and giving; John Wick 2 was about taking everything away from him."
John Wick: Chapter 3 opens on May 17, 2019, and you can read everything we know about the sequel right here.