Cool Stuff: Hallmark Unveils New 'Solo' And 'Star Wars' Ornaments Way Before Christmas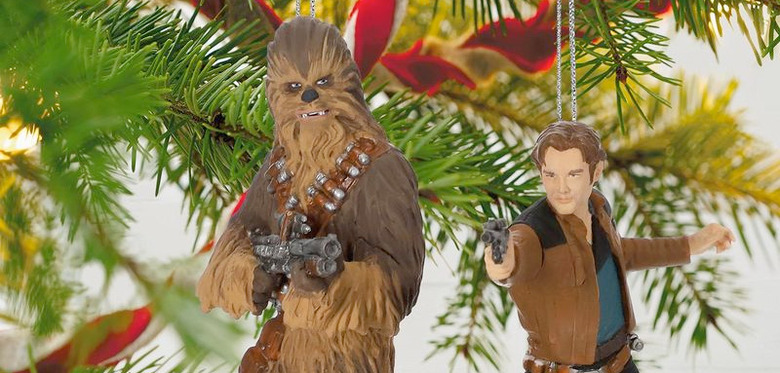 Yes, we know it's far too early to begin discussing Christmas. Even if you're one of those people who partakes in the wild Christmas in July sales that inexplicably happen, it's just not the right time. But when you're Hallmark and you have an extensive collection of collectible ornaments released at various points throughout the year, you don't worry about that. Plus, with the release of Solo: A Star Wars Story around the corner, there's no better time to tease the new pieces that will be available for your Christmas tree this year.
Hallmark has unveiled some new additions to their Star Wars collection of Keepsake Ornaments. A couple of them come straight from Solo: A Star Wars Story while others are from the rest of the Star Wars saga. Check out the 2018 Hallmark Star Wars ornaments below.
Hallmark's Solo Ornaments
First up, here are the new ornaments inspired by Solo: A Star Wars Story. As you can see, there's the Kessel Run version of the Millennium Falcon that will be able to make it around your entire tree in less than 12 parsecs. And what would the Millennium Falcon be without their esteemed pilots, Han Solo and Chewbacca, who will come in an ornament two-pack.
The Millennium Falcon will cost you $32.99 while Han and Chewie will cost $29.99. Both will be available for purchase on October 6th this fall.
Other 2018 Hallmark Star Wars Ornaments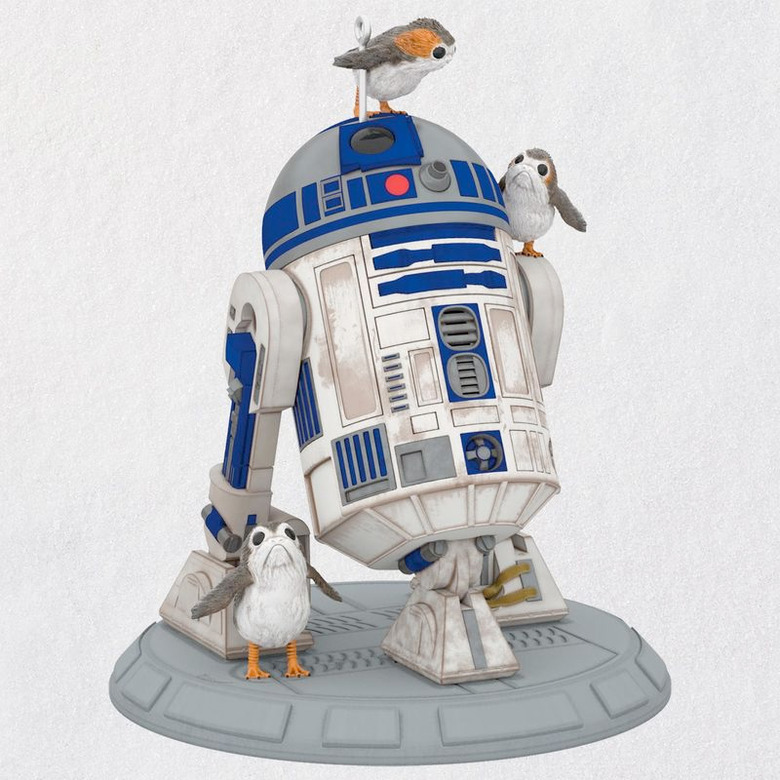 Meanwhile, there are several other Star Wars ornaments being added to Hallmark's collection this year.
For fans of Star Wars: The Last Jedi, a new ornament features R2-D2 and a few of his new Porg friends from Ahch-To. Though honestly, I think it would be even better to have a roast Porg ornament. Or at the very least, an ornament of the scared, sad Porg who watches Chewbacca nearly eat one of his friends. The R2-D2 with Porgs ornament will cost $19.99 and goes on sale on October 6.
Finally, there are two more ornaments with Han Solo links coming as well. A new Millennium Falcon ornament has lights and sounds to bring the iconic ship to life. Meanwhile, you can display Jabba the Hutt's favorite prize, Han Solo in carbonite, on your tree as he's getting rescued by Leia in disguise as the bounty hunter Boushh.
Han Solo in carbonite with Boushh will cost $29.99 while the Millennium Falcon will cost $39.99. Both available for pre-order now to be shipped on July 16 this summer.