The Still-Happening 'Bright' Sequel Lines Up A New Writer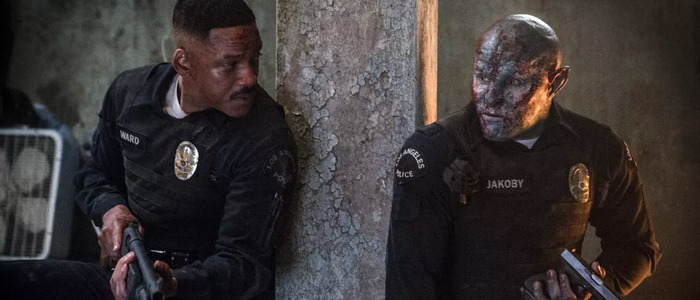 Netflix is still moving forward with their Bright sequel, and they've just hired a writer to pen the latest orc cop adventure. Evan Spiliotopoulos, who co-wrote Disney's live-action Beauty and the Beast, will write the script for director David Ayer.
Critics did not like Bright, Netflix's very expensive action movie starring Will Smith and Joel Edgerton. No matter – Netflix had already committed to a Bright sequel before the first movie had dropped onto the streaming service. Sometime later, the Bright sequel was confirmed, and it was revealed that original writer Max Landis (remember him?) would not be returning. Now, Netflix and director David Ayer have their new writer lined up. The Hollywood Reporter reveals that Evan Spiliotopoulos, who co-wrote the live-action Beauty and the Beast and the already-forgotten fantasy sequel Huntsman: Winter's War, is going to pen the further adventures of Officer Will Smith and his partner, Officer Orc.
Per THR, Ayer and original Bright writer Max Landis did not get along, which is possibly one of several reasons the writer isn't returning. Here's who is returning, though: original stars Will Smith and Joel Edgerton. The first Bright was set in an alternate reality where fantasy characters like orcs and fairies are part of every day life. Smith played Ward, a human cop who suddenly found himself teamed up with Jakoby, an orc played by Edgerton. The duo embarked "on a routine patrol night that will ultimately alter the future as their world knows it. Battling both their own personal differences as well as an onslaught of enemies, they must work together to protect a thought-to-be-forgotten relic, which in the wrong hands could destroy everything."
Like any film, Bright had its defenders. On top of that, the film did big numbers for Netflix. At least 11 million U.S. Netflix users streamed the movie during its first three days of release. Bright was Netflix's attempt to show they could produce big budget blockbusters just as well as any major Hollywood studio. The streaming platform won the rights to Bright after a bidding war. After that, they dropped about $90 million on the film, hired big movie star Will Smith, and entrusted the project to Suicide Squad filmmaker David Ayer. Committing to a sequel before release was Netflix's way of underscoring how committed they were to making Bright work.
When asked about Bright 2, co-star Joel Edgerton said he hoped the sequel would expand the first film's plot a bit more:
"The world is very interesting, and I think there's a certain depth and detail to that world that's really wonderful. I think on the one hand it's interesting that some of the criticisms of the film is that some of the analogies about race didn't go deep enough, and other people said it was obvious and didn't need to go too far with it because it was there on the surface. I think there's a lot of fun to be had, there's more to discover with the characters."