Rick Moranis Will Appear On 'The Goldbergs' And Reprise One Of His Most Famous Roles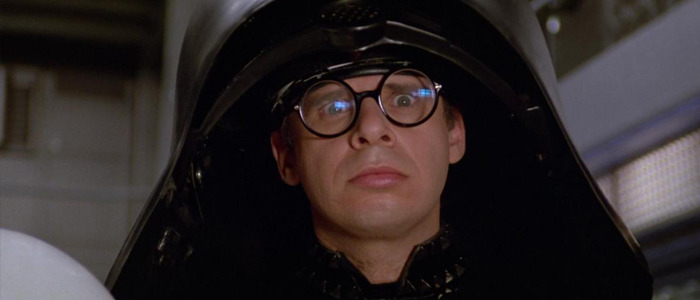 After establishing himself as one of the most beloved actors of the 1980s and '90s, Ghostbusters and Honey I Shrunk the Kids star Rick Moranis took a lengthy break from acting and largely stepped out of the limelight, raising his children after his wife's death and being more choosy about the projects in which he appears. He went back to his roots and reprised his role of Bob McKenzie for an SCTV reunion show last year, and now we've learned he'll be reprising another of his famous roles again very soon.
A new reports says that Moranis will play Dark Helmet, his character from Mel Brooks's 1987 Star Wars comedy spoof Spaceballs, on an upcoming episode of the ABC sitcom The Goldbergs. Read more about the Rick Moranis The Goldbergs guest appearance below.
USA Today says Moranis will play the flustered Spaceballs villain in this week's episode of The Goldbergs, which airs on Wednesday, May 9, 2018.
Moranis voices the character in one of young film enthusiast Adam Goldberg's dreams, as Adam (Sean Giambrone) "encounters Dark Helmet storming his bedroom to battle with the Schwartz," a play on Star Wars' The Force, according to a description. Adam "promises to get a sequel to Spaceballs produced before waking up."
Moranis turned down a role in Paul Feig's 2016 Ghostbusters movie, saying, "Why would I do just one day of shooting on something I did 30 years ago?" But it seems as if something about The Goldbergs, a 1980s-set show that loves paying homage to films and TV shows of that era, resonated with him, and he's getting back under the helmet once again. The Goldbergs creator Adam F. Goldberg is thrilled to have Moranis on board:
"I truly think Rick Moranis gave the most underrated and brilliant comedic performance in any '80s movie as Dark Helmet. I've been a lifelong fan of his work and became obsessed with having him reprise the role on my show. As an added bonus, maybe this even gets Spaceballs back in the conversation, and I can get my dream of helping make a sequel!"
Spaceballs director Mel Brooks was speaking with MGM about the possibility of Spaceballs 2 as recently as last year, so maybe this will be the push he needs to actually get that project moving.
Moranis, who says he's not retired, has simply become more choosy about the parts he plays in recent years. He's done a lot of voice work since appearing in 1997's Honey We Shrunk Ourselves, and he's even gotten back into music, releasing an album called My Mother's Brisket & Other Love Songs in 2013.