Is Writing Harder Than Directing? Hollywood Filmmakers Weigh In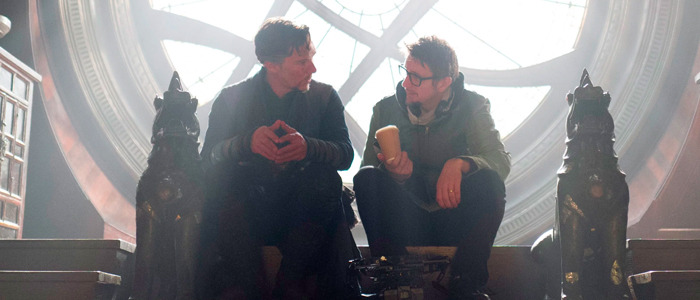 Here's a complicated question: is writing harder than directing? Doctor Strange director Scott Derrickson thinks so, and inadvertently kicked off a bit of a firestorm when he expressed that sentiment on Twitter. A handful of other Hollywood filmmakers joined the conversation and began explaining reasons why one discipline is more difficult than the other, and we've rounded up the highlights from their fascinating conversation below.
Writing is harder than directing.

— N O S ⋊ Ɔ I ᴚ ᴚ Ǝ ᗡ ⊥ ⊥ O Ɔ S (@scottderrickson) May 6, 2018
It started with this tweet from Scott Derrickson, the director of movies like Doctor Strange and The Day the Earth Stood Still. In addition to directing, Derrickson is also a writer, having co-written the screenplays for Sinister, Sinister 2, The Exorcism of Emily Rose, and more.
I appreciate the "humility" but I can't imagine a more binary statement in a field full of complexities.

— (((Jordan Vogt-Roberts))) (@VogtRoberts) May 7, 2018


Jordan Vogt-Roberts, who directed The Kings of Summer and Kong: Skull Island, chimed in to disagree.
Writer/director/voiceover actor Zelda Williams (Dark/Web, The Legend of Korra) jumped into the fray as well, explaining that she's never seen a garbage script turned into a great movie.
There's an infinite about of mediocre scripts you wouldn't think twice about that became seminal films. We live in an age when people have forgotten what truly spectacular directing looks like. The original statement is an over simplification of an entirely unnecessary debate.

— (((Jordan Vogt-Roberts))) (@VogtRoberts) May 7, 2018
Film is magic. I believe there's an intangible quality between the read of a script and whether it makes for a good film. No part of filmmaking is a 1:1 translation and this debate ignores that. Some amazing scripts simply don't make amazing films regardless of the director.

— (((Jordan Vogt-Roberts))) (@VogtRoberts) May 7, 2018
But Vogt-Roberts disagreed, calling this whole thing "an entirely unnecessary debate."
Williams kept the conversation alive, referencing director Akira Kurosawa's thoughts on the subject. In his book Something Like an Autobiography, Kurosawa said:
"With a good script a good director can produce a masterpiece; with the same script a mediocre director can make a passable film. But with a bad script even a good director can't possibly make a good film. For truly cinematic expression, the camera and the microphone must be able to cross both fire and water. That is what makes a real movie. The script must be something that has the power to do this."
She also raised a fascinating question about the seemingly unknowable results of two directors tackling the same script, a question a Starz show called The Chair tried to answer back in 2014.
Then Guardians of the Galaxy writer/director James Gunn weighed in, sounding off about the difficulties of each speciality.
Gunn also tried to point out how there's so much more work that goes into directing than fans are able to see in studio-approved behind-the-scenes reels, and admitted that he occasionally loses his s*** when he's on set.
I'm always happy to see filmmakers on this level talking about their craft, giving insights into the way they approach their jobs. Working in the entertainment industry can sometimes seem like an impenetrable thing, but each time filmmakers open themselves up to conversations like this, it makes the idea of writing and directing seem more relatable – like it's just regular people doing a job.
"To be honest I was merely expressing my own experience," Derrickson said in another tweet. "But I've enjoyed the hell out of all the reactions the tweet has gotten." So have we.