Mark Hamill May Have Just Spoiled A Potential 'Solo' Cameo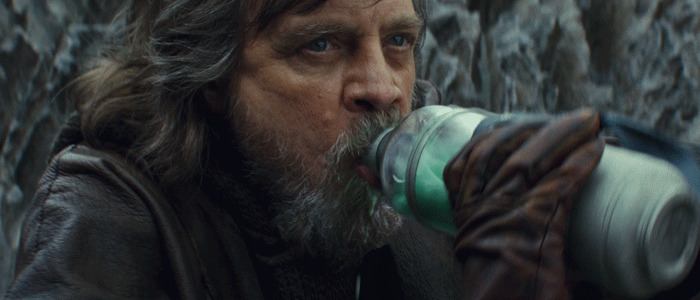 Mark Hamill just spoiled a potential Solo: A Star Wars Story cameo. In a new interview, Hamill appears to have accidentally let slip a bit of info regarding the upcoming Star Wars film, but hey, we can't stay mad at Mark Hamill, so it's okay.
Find out who the Solo cameo is below, and beware of spoilers!
Oh, Mark Hamill. Now you've gone and done it. During an interview with the Washington Post's Cape Up Podcast with Jonathan Capehart, Mr. Hamill accidentally revealed a surprising Solo cameo that I don't think anyone was expecting. While talking about actor Anthony Daniels, who plays Star Wars mainstay C-3PO, Mr. Hamill revealed that Daniels would be making an appearance in the upcoming Star Wars spin-off film:
"Tony Daniels was so happy, 'cause he's in every single Star Wars movie. Every single one. All the Prequels, he's in Rogue One, he's in Solo... Whoops! I hope that's not...But anyway..."
It's worth nothing that Hamill doesn't actually specify that Daniels is playing C-3P0 in Solo – there's always a chance that the actor might have a cameo as another character. Warwick Davis, for instance, has played several different Star Wars characters over time. But then again, Daniels has only played C-3P0 in the Star Wars films, which indicates that's who he'll be playing in Solo as well. You can listen to Hamill's full interview below.
The question now is: how does C-3P0 figure into the plot of Solo? We know that Solo is set 10 years before the events of the first Star Wars film, A New Hope. We also know that C-3P0 has been around for a very long time, having been created by Anakin Skywalker. The animated series Star Wars Rebels confirmed that C-3P0 and frequent droid companion R2-D2 were engaged in missions for Bail Organa, Princess Leia's adoptive father, during the events of Solo. All of this leaves room for C-3P0 (and perhaps R2-D2) to appear at some point in Solo. No matter what, though, I'm fairly positive C-3Po's appearance will be brief, and not a major factor in the film's plot. Still, I can't help but wonder which other Star Wars characters will pop-up in the film. Fingers crossed for Sy Snootles.
Solo: A Star Wars Story opens on May, 25, 2018.
Board the Millennium Falcon and journey to a galaxy far, far away in Solo: A Star Wars Story, an all-new adventure with the most beloved scoundrel in the galaxy. Through a series of daring escapades deep within a dark and dangerous criminal underworld, Han Solo meets his mighty future copilot Chewbacca and encounters the notorious gambler Lando Calrissian, in a journey that will set the course of one of the Star Wars saga's most unlikely heroes.