'Transparent' Is Coming To An End With Season 5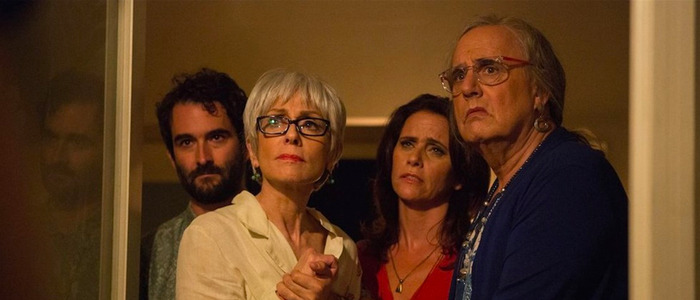 Amazon's award-winning series Transparent will end after the upcoming season 5. The show's conclusion comes in the wake of the firing of star Jeffrey Tambor. Tambor was let go from the series following sexual harassment claims.
Transparent creator Jill Soloway has made it official: the upcoming fifth season of the hit Amazon series will be its last. The Hollywood Reporter has an interview with Transparent star Jeffrey Tambor – his first official interview since being accused of sexual harassment. Within the piece, Soloway reveals that Transparent season 5 will close out the series:
As for the future of Transparent, Soloway has begun to feel "a tiny bit like we are going to be OK." The writing staff has begun discussions on how to tackle the show's fifth — and, Soloway reveals, final — season. "Hopefully it sets the Pfeffermans up with some sort of beautiful reclaiming," Soloway says. "I think we're going to get there with some time."
In November 2017, Tambor announced his departure from the show following accusations of sexual misconduct from the actor's former assistant, actress Van Barnes and Transparent semi-regular Trace Lysette:
"Playing Maura Pfefferman on Transparent has been one of the greatest privileges and creative experiences of my life. What has become clear over the past weeks, however, is that this is no longer the job I signed up for four years ago...I've already made clear my deep regret if any action of mine was ever misinterpreted by anyone as being aggressive, but the idea that I would deliberately harass anyone is simply and utterly untrue. Given the politicized atmosphere that seems to have afflicted our set, I don't see how I can return to Transparent."
Yet soon after this announcement, word came that Tambor might not be leaving after all. Then, in February of this year, Amazon officially fired Tambor following an internal review. "I have great respect and admiration for Van Barnes and Trace Lysette, whose courage in speaking out about their experience on Transparent is an example of the leadership this moment in our culture requires," Jill Soloway said at the time. "We are grateful to the many trans people who have supported our vision for Transparent since its inception and remain heartbroken about the pain and mistrust their experience has generated in our community. We are taking definitive action to ensure our workplace respects the safety and dignity of every individual, and are taking steps to heal as a family."
After Tambor's departure, many wondered how the show would continue, since so much of Transparent centered around his character. Now, it's clear Soloway and company will wrap the series up with one final season.
"I was hoping, in those early days, before Trace's initial statement came out, that it all could have been a big misinterpretation — that one person's harassment is another person's dirty joke," Soloway says in the THR piece, adding: "It's not a simple case of did he do it or didn't he do it. Nobody said he was a predator — they said he sexually harassed people. He made enemies, and I don't think he realized he was making enemies. You have to be very, very careful if you're a person in power and treat people very appropriately."
As for Tambor, while his time on Transparent has ended, the actor will still appear in the upcoming fifth season of Arrested Development.