'Arrested Development' Season 5 Trailer Announces May Premiere Date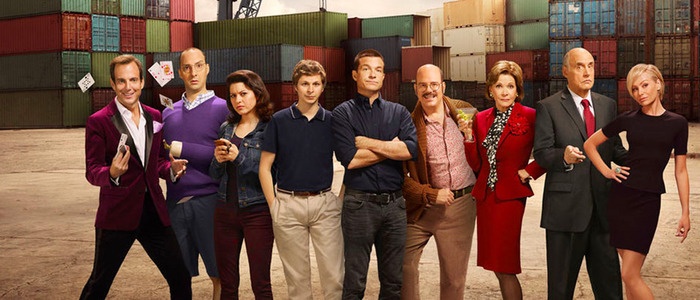 We'll be seeing Arrested Development season 5 sooner than expected. A lot sooner – as in this month. Netflix just released an Arrested Development season 5 trailer which reveals a May 29 release date.
Netflix dropped a surprise Arrested Development season 4 remix over the weekend, but that's not the last we'll see of the Bluths this month. The official Arrested Development season 5 trailer is here, and it reveals a May 29, 2018 premiere date.
Arrested Development Season 5 Trailer
This trailer starts off like a greatest hits compliation, taking us through some of the best moments of previous seasons before launching into new material. That new material hints at a plotline involving the Bluths giving themselves an award. There's also a quick shot revealing Portia de Rossi's character Lindsay is running for Congress.
In 2016, series creator Mitch Hurwitz said that season 5 would involve a murder mystery, although there's no real indication of that in this trailer. Star Jason Bateman reaffirmed the murder mystery storyline as well, telling Entertainment Weekly:
"The central spine of that story of is the death of Liza Minnelli's character, and a bit of whodunit, who may have done it, who had something to do with it. That's sort of a central thread around which [creator Mitch Hurwitz] is going to braid in all the colorful plot complications that he knows how to do."
Mitch Hurwitz also released this statement:
"In talks with Netflix we all felt that that stories about a narcissistic, erratically behaving family in the building business — and their desperate abuses of power — are really underrepresented on TV these days. I am so grateful to them and to 20th TV for making this dream of mine come true in bringing the Bluths, George Sr., Lucille and the kids; Michael, Ivanka, Don Jr., Eric, George-Michael, and who am I forgetting, oh Tiffany. Did I say Tiffany? — back to the glorious stream of life."
The question now is: are you still excited for a new season of Arrested Development? Personally speaking, I'm not entirely optimistic about more misadventures with the Bluths. While the original run of the series will always be a classic, and the cast remains very talented and very funny, I found Netflix's Arrested Development season 4 to be severely lacking. This was primarily due to how the season was constructed: in order to accommodate the busy schedules of the cast, storylines were broken up in such a way that rather than having the ensemble bounce off each other, the characters were stuck in their own stand-alone episodes. Despite everyone's best efforts, this really didn't work that well, because the magic of Arrested Development revolved around seeing the cast work together.
Perhaps season 5 will remedy this. In a previous interview, co-star Will Arnett said season 5 would be structured more like the original run of the series. Arnett also said that the cast would be spending "more time" together. We shall see!