Contest: Win 'Saving Private Ryan' On 4K Ultra HD Ultra Blu-Ray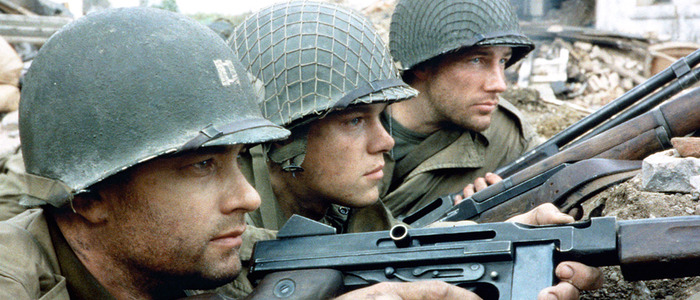 Steven Spielberg's World War II epic Saving Private Ryan is coming to 4K Ultra HD/Blu-ray Combo for the first time, and we have a chance for you to win a free copy.
Spielberg's Saving Private Ryan is turning 20 years old this year. In honor of the anniversary, the film is being released on 4K Ultra HD/Blu-ray Combo. If you'd like to win yourself a free copy of the 4k Ultra HD, you're in luck. All you need do is head on down to the comments section and tell us your favorite Spielberg movie. Three winners will be chosen at random. U.S. residents only, please.
Saving Private Ryan follows Captain John Miller (Tom Hanks) as he "takes his men behind enemy lines to find Private James Ryan (Matt Damon), whose three brothers have been killed in combat. Surrounded by the brutal realties of war, while searching for Ryan, each man embarks upon a personal journey and discovers their own strength to triumph over an uncertain future with honor, decency and courage."
Saving Private Ryan Interview
It's safe to say that Saving Private Ryan is one of Spielberg's best films. It's technically masterful, but it's also loaded with emotion. The film's lengthy opening sequence recreating the D-Day invasion is pulse-pounding and unforgettable, and the film that follows is truly epic. Spielberg won his second Academy Award for Best Director for the film, and rightfully so.
Full details on the 4K Ultra HD/Blu-ray Combo release are below.
Director Steven Spielberg's critically lauded WWII epic Saving Private Ryan celebrates its 20th anniversary this year with a new 4K Ultra HD/Blu-ray Combo release on May 8, 2018 from Paramount Home Media Distribution.
A DreamWorks Pictures and Paramount Pictures co-production, Saving Private Ryan won five Academy Awards®, including Best Director, and two Golden Globes®, including Best Director and Best Motion Picture—Drama, and was named by the AFI as one of its 100 greatest American films. Boasting a stellar cast headed by Tom Hanks, Matt Damon, Edward Burns, Tom Sizemore, Ted Danson, Giovanni Ribisi, Vin Diesel, Paul Giamatti and Barry Pepper, the film is widely considered one of the greatest war movies ever made.
Filled with breathtaking imagery, including the astonishingly realistic recreation of the D-Day invasion, Saving Private Ryan offers an outstanding visual experience on 4K Ultra HD with four times the resolution and more than double the number of colors available with full HD. The release also boasts a Dolby Atmos® soundtrack remixed specifically for the home theater environment to place and move audio anywhere in the room (along with the original English 5.1 Dolby Digital mix), as well as Dolby Vision™ high dynamic range (HDR), which delivers greater brightness and contrast, as well as a fuller palette of rich colors.
The 4K Ultra HD/Blu-ray Combo pack includes the film on both 4K Ultra HD and Blu-ray, access to a Digital copy, and a second Blu-ray with more than three hours of previously released bonus features that take viewers into the past for a look at the real-life events that inspired the film and behind-the-scenes to explore the challenges of bringing that past to life.