'Solo: A Star Wars Story' Doubled 'Black Panther' Ticket Presales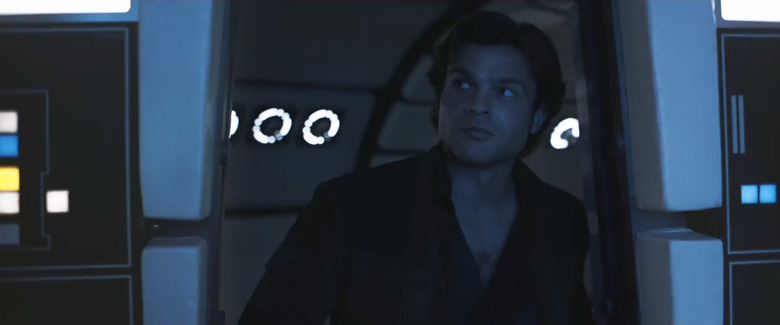 For awhile, Star Wars fans were worried whether Solo: A Star Wars Story was going to turn out all right. When directors Phil Lord and Chris Miller were removed from the production and replaced by Ron Howard, there was a lot of concern whether the movie was going to live up to the legacy of Star Wars and one of the most beloved characters in the galaxy. But it sounds like fans aren't nearly as worried as they used to be, because ticket presales have soared past almost all of the biggest-selling movies of the year.
Solo: A Star Wars Story tickets went on sale just in time for Star Wars Day on May 4th, and within the first 24 hours, the smuggler's origin story doubled the ticket presales of Black Panther. The Star Wars spin-off sold enough tickets to have the second-best first day of presales in 2018.Variety has the report of Fandango's ticket sales, but it wasn't enough to surpass the numbers Avengers: Infinity War put up. Still, this should give Disney and Lucasfilm some confidence in the movie that felt rather unnecessary in the grand scheme of things. While many fans have been vocal about wanting to see the Star Wars universe expand beyond the characters we're already familiar with, it appears just as many love Han Solo enough to see how his origin story turns out.
It's not just Fandango putting up big numbers either. Deadline says the smaller Atom Tickets had their second-largest hour of ticket presales after Avengers: Infinity War when Solo tickets went on sale. So it sounds like all those stupid and sad boycotts from deranged "fans" out there aren't making much of a dent.
The ticket presales for Solo: A Star Wars Story show why the box office tracking for the spin-off is projecting a record-setting Memorial Day weekend with a possible haul of $170 million. That would put it significantly ahead of the previous record-setting Memorial Day openers  Pirates of the Caribbean: At World's End ($139.8M) and Indiana Jones and the Kingdom of the Crystal Skull ($126.9M). I guess that's the power of Star Wars.
The question is how the movie will perform after that initial weekend. Director Ron Howard recently said that the possibility of any sequels following Solo: A Star Wars Story depends on how the fans turn out for the movie. The opening weekend box office is one thing, but if fans come away mostly disappointed, potential negative reviews turn general audiences off, or the weekends that follow don't give the movie long legs, then it might not be enough for Lucasfilm to greenlight any possible sequels. We'll just have to wait and see what happens later this month.