Donald Glover Sings, Stalks, Plays Lando & Defends 'Jurassic World' On A Stellar 'Saturday Night Live'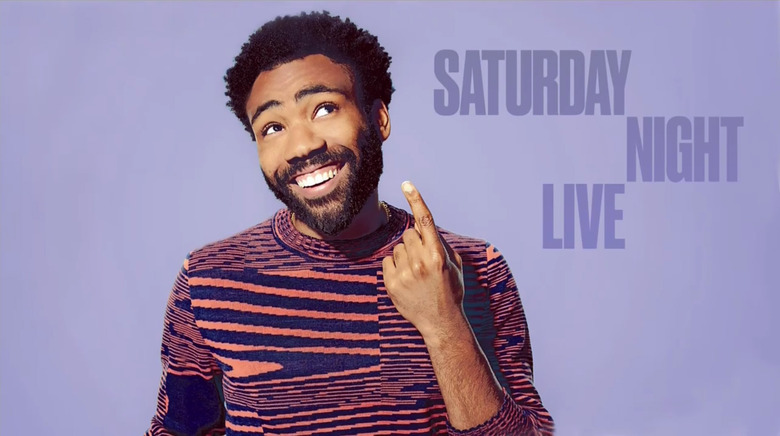 This weekend brought Donald Glover to Saturday Night Live to make his debut as both host and musical guest (under his Childish Gambino hip-hop moniker). Glover is no stranger to NBC having starred in Community and written for 30 Rock, but he also auditioned for SNL a couple times. And when you see how well he does in this outstanding episode of SNL, you're going to wonder why he never made the cut as a cast member.
Donald Glover was a fantastic host, playing a wide variety of characters, including his Lando Calrissian from Solo: A Star Wars Story. Plus, he was able to display his signature musical skills in a number of sketches. There really are a lot of highs from this episode, and the low isn't even all that bad. So let's run through the best and worst sketches from the Donald Glover hosted Saturday Night Live.
The Best
Friendos – With Donald Glover being such an accomplished rapper, I was hoping there would be some kind of music video parody (there were actually two), but I didn't expect this. Glover teamed up with Chris Redd and Kenan Thompson to parody the hip-hop trio Migos with a fantastic, hilarious music video about them going to therapy and dealing with the issues they have with each other. I wish I could have a text tone of Kenan Thompson shouting "Lambo!"
80s Music Video – Have you ever heard of the Oran "Juice" Jones single "The Rain" from 1986? At first it feels like a tragic love ballad about losing a loved one, but it's actually more of a song about a guy who seems to be stalking a woman he's been admiring from afar. It's all rather strange, and someone from SNL has definitely seen it, because this parody is absolutely fantastic. It's so delightfully weird, and Glover makes Raz P. Berry so suave and unsettling at the same time.
Courtroom – It's about time Jurassic Park/Jurassic World answered for all the mistakes they've made by bringing dinosaurs back to life and creating tragedies for families who just wanted to see some majestic prehistoric beasts. Here Donald Glover plays a lawyer trying to defend the irresponsibility and carelessness with which the owners of the theme parks have operated. While I was hoping for appearances from Jurassic Park characters, but the sketch works pretty damn well without them.
Dirty Talk – Melissa Villaseñor doesn't get too many opportunities to shine outside of the array of impressions she has in her back pocket. But in this sketch, her quirky personality works rather well as she poorly attempts to do some dirty talk with her boyfriend, played by Donald Glover.
The Average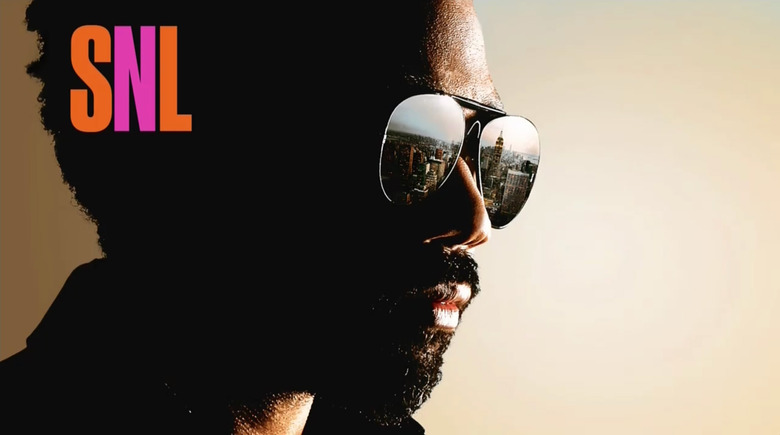 Michael Cohen Wiretap – While the writing could have been stronger on this cold open, it's easily one of the better political openings SNL has had in a while. Ben Stiller's Michael Cohen continues to be fantastic, and this time there's an array of other great celebrity cameos in a big game of phone tag between Donald Trump (Alec Baldwin), his doctor (a wonderful Martin Short), Rudy Giuliani (Kate McKinnon), Ivanka Trump (Scarlett Johansson) and Jared Kushner (Jimmy Fallon), Sarah Huckabee Sanders (Aidy Bryant), Mike Pence (Beck Bennett) and Melania Trump (Cecily Strong) popping up like that viral clip. Oh yeah and the real Stormy Daniels stopped by with a not so subtle message for the president.
Really, it's the pacing of the sketch and endless stream of faces that make it shine a little brighter than the writing.
Barbie Instagram – Did you know Barbie has her own Instagram? Since it's all obviously staged around the character of Barbie, who can't take her own pictures, the account has writers who must figure out the best captions for Barbie's photos, and these three are obviously not the best candidates. Donald Glover's are clearly the best and most elaborate. The sketch is pretty funny, but the answers that come from Pete Davidson and Heidi Gardner should have been funnier, in my opinion, even if the point was to let Glover's character's responses shine.
A Kanye Place – A spoof of A Quiet Place makes sense since the movie was quite the hit in April, but this is certainly an interesting way to do it. With Kanye West creating a stir online in a variety of ways with some ludicrous opinions, it's rather difficult to remain quiet when everything Kanye says is so insane that you can't help but react instinctively and loudly.
Lando's Summit – We were hoping there would be some kind of sketch featuring Donald Glover as Lando Calrissian, but we didn't expect it to take shots at the Star Wars saga for having a distinct lack of black characters. Lando Calrissian hosts a summit for all the black characters in the Star Wars universe, and it turns out it's not really enough for a full summit. While I think the premise of this sketch is funny, it's kind of a one-note joke that could have been expanded to be a little more clever.
The Worst
Prison Job – The premise for this sketch is an amusing one, but it never really elevates to anything beyond mild amusement as Kenan Thompson, Donald Glover and Chris Redd go from talking tough about prison to being nice, charming customer service reps on the phone. It was the worst sketch of the night, but it wasn't nearly as bad as some of the worse sketches from this season.
Weekend Update
This was a solid rendition of Weekend Update, but it's Michael Che that stole the show with a couple of big, bold punchlines that brought some well-deserved groans and laughs. Colin Just had some good ones too, but Che was the star this time around for sure.
Pete Davidson on Colin Jost and Michael Che Hosting Emmys – There should be a Weekend Update where Pete Davidson ribs someone on every episode. He's done a Comedy Central roast before, and here he does a little bit of roasting of Jost and Che that makes us feel like we're just hanging out with these guys behind the scenes.
Leslie Jones on Facebook's Dating Feature – Whenever Leslie Jones has a Weekend Update appearance that involves a lot of interaction with Colin Jost, it's usually pretty good. But there wasn't really anything about this particular segment with Jones that made me laugh. Felt a little dead on arrival and felt rather pointless.
The Host
Goddamn it, Donald Glover is so charming. At times he feels like he is Lando Calrissian. And on top of that, he's also so damn hilarious. The premise for the monologue is a simple one where Glover has enough confidence in himself that he can do anything any of the other cast members can do. What unfolds is a cavalcade of mishaps where Glover isn't all that good at everything. However, the timing didn't seem to work very well as Glover went along, and it felt like that hurt some of the laughs a bit. But Glover made it work as best he could.
The MVP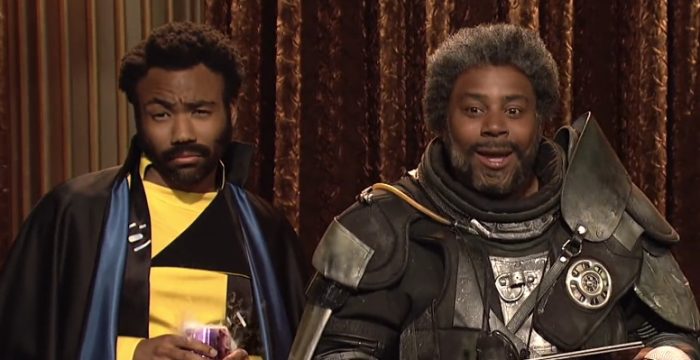 Kenan Thompson – While Donald Glover could have easily been the MVP of this episode as he fit right in with the cast of SNL, that was to be expected. So this week we're giving this to Kenan Thompson, who was great throughout this entire episode and prominent in almost every single sketch of the evening.
The Final Word
This is a great way to kick off the final trio of episodes of the 43rd season of Saturday Night Live. Hopefully Donald Glover isn't too busy to come back every now and then to host SNL. He's one of the best first-time hosts we've had this season, and he's only going to become more famous as his career continues. We will continue to look forward to his career with great interest.