'Rambo 5' Will Bring Back Sylvester Stallone To Take On A Mexican Drug Cartel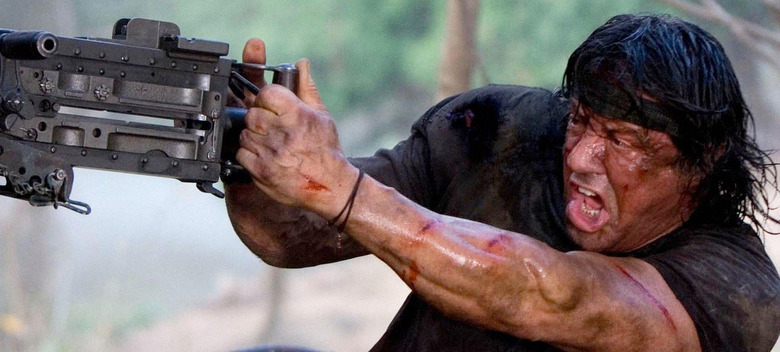 Sylvester Stallone may be 71 years old, but that's not going to stop him from taking on some new enemies in yet another sequel in the Rambo action franchise.
Rambo 5 is currently being shopped around by Avi Lerner and his Millennium Films banner at the Cannes Film Market. And rather than passing the torch as Stallone did in the   spin-off Creed, it looks like Sylvester Stallone will take the lead again as the Vietnam veteran who can't seem to keep himself out of trouble.
Deadline has news of Rambo 5 in the works with Sylvester Stallone working on the script himself. Avi Lerner, who worked with Stallone on the Expendables franchise, will produce. But what brings Rambo back into action this time?
The last time we heard about Rambo 5 in 2014, the only details we knew were that John Rambo was going to face off with a Mexican drug cartel. It turns out that Rambo is minding his own business on a ranch somewhere, but when a friend's daughter is kidnapped by the drug cartel, he crosses the Mexican border to get her back.
Does this mean that Millennium Films is no longer considering their reboot of the franchise with Rambo: New Blood? A couple years ago heard about the possibility of a project that would treat Rambo like James Bond and put another actor in the role without Sylvester Stallone being involved anymore. That sounds like an infinitely worse idea than Rambo 5, so hopefully this will just end the franchise entirely.
Rumors previously suggested Rambo 5 would be called Rambo: Last Blood, which would be an appropriate title to end the franchise that began with First Blood back in 1982.
If we're talking about a Logan-esque send-off for Rambo, then this could be satisfying, but at the same time, I thought we were done with this character after Rambo hit theaters in 2008. While the sequel didn't bomb, it didn't make quite as much as First Blood did 26 years earlier, and it seemed like the character had run his course.
Stallone directed Rambo in 2008, but there's no word on whether he'll get behind the camera again for this developing sequel. No matter who directs, I hope they can do something to make this character compelling again. Because when you have action movies like John Wick and Mad Max: Fury Road making waves, I'm not sure that John Rambo can keep up with the genre that he once defined. We'll keep you posted as Rambo 5 develops.