'Avengers: Infinity War' Is The Fastest Movie To Reach $1 Billion At The Global Box Office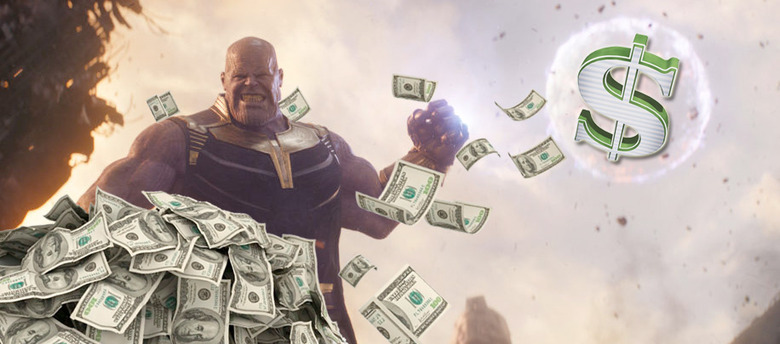 It feels like Avengers: Infinity War has been out much longer than a week, but this is only the second weekend the Marvel sequel is dominating the box office. And while there will certainly be a steep drop in numbers compared to the record-setting opening weekend, the movie is still performing exactly as Disney and Marvel hoped it would. In fact, by the end of today, it will have broken another record.
With last night's box office tally reaching $974.5 million worldwide, there's no doubt that Avengers: Infinity War will be the fastest movie to reach $1 billion at the worldwide box office, and it only took 11 days. That's enough for Infinity War to take another record from Star Wars: The Force Awakens, which reached the milestone in 12 days in 2015.
Forbes has the latest Avengers Infinity War box office numbers. The second Friday domestic box office take was only $31.4 million, a 70% drop from the opening weekend, which is the second biggest drop Friday-to-Friday for a movie of this scale (Star Wars: The Last Jedi has the "top" spot). But it should be noted that the first Friday includes a bit of inflation thanks to the Thursday night preview screenings rolled into the Friday box office count. It's a bit higher than the 64% drop that The Avengers had in 2012, but Infinity War is by no means failing because of this.
Overall, the domestic total for Avengers: Infinity War will pass $400 million today. That's one record the film can't take away from The Force Awakens, which achieved the same milestone in eight days. That means it's likely not going to break many more of the records set by the Star Wars sequel in the United States. But on the global side, it still has the chance to set a number of new records. That's especially true with such little competition in theaters until Deadpool 2 arrives in a couple weeks.
This is likely the last major record that Infinity War will set at the box office. The question is how long will some of these records last? There's a good chance that Avengers 4 could end up breaking these records next summer, especially with Infinity War offering up an ending that is leaving the audience desperate for answers. That feels like a long time to wait to see how the story continues, but Ant-Man and the Wasp in July and Captain Marvel in March will help pass the time.