'Guardians 3' Production Details Likely Reveal 'Avengers 4' Spoilers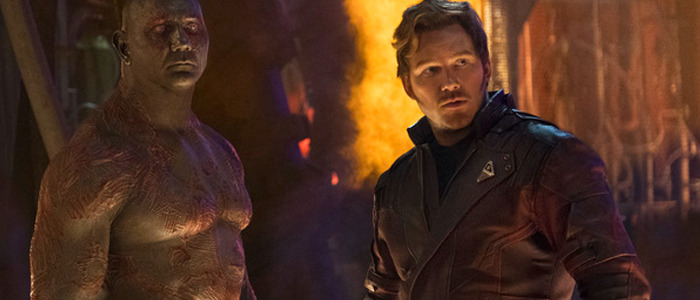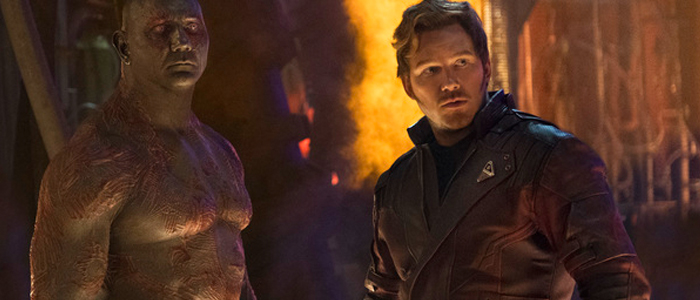 Warning: this article contains spoilers for Avengers: Infinity War.
Social media can be a dangerous thing, especially for actors who've been tasked with keeping some of the biggest secrets in blockbuster movie history. In a recent post, it looks like Chris Pratt accidentally revealed something about who will appear in Guardians of the Galaxy Vol. 3 – which means he also inadvertently revealed some Avengers 4 spoilers. Read his comment below.
Infinity War ends with half of the creatures in the Marvel Cinematic Universe blowing away into dust, including most of the Guardians of the Galaxy. Gamora (Zoe Saldana) was murdered as Thanos's sacrifice for the Soul Stone (though she may not be totally dead), and while Rocket Raccoon (Bradley Cooper) and Nebula (Karen Gillan) escaped Thanos's decimation intact, Pratt's Peter Quill (aka Star-Lord), teen Groot (Vin Diesel), Mantis (Pom Klementieff), and Drax the Destroyer (Dave Bautista) all withered away and vanished. But with Guardians of the Galaxy Vol. 3 already announced, how can that movie exist if most of its cast is wiped out?
Turns out it can't. In an Instagram post (via BMD) in which Pratt wished Klementieff a happy birthday, the actor revealed that both Star-Lord and Mantis will be back for Guardians Vol. 3:
Happy Birthday @pom.klementieff whom many of you know as Mantis!!! She's such a unique, talented and driven artist. Can't wait to start shooting Guardians Vol. 3 with her next year! Hope you're having a good day Pom!
That confirms what most fans suspected walking out of Infinity War: those vanishing deaths are going to be reversed somehow during Avengers 4. This was sort of a given, seeing as how Tom Holland's Spider-Man and Chadwick Boseman's Black Panther were two of the characters that also vanished, and there's no way these studios are going to let those characters go this early in the process.
Guardians writer/director James Gunn revealed last year that he was having "some pretty intense conversations" with Zoe Saldana about a significant role in Guardians of the Galaxy Vol. 3, but it remains to be seen how she'll factor into the story. We can assume that Star Lord, Mantis, and the rest will be brought back to existence, but is Gamora really dead? Maybe she only shows up in flashback form, or in Peter Quill's dream sequences. We'll have to wait and see if Marvel starts taking death seriously.