'Solo: A Star Wars Story' Tickets Are On Sale Now, See A New Clip, TV Spot, Poster & More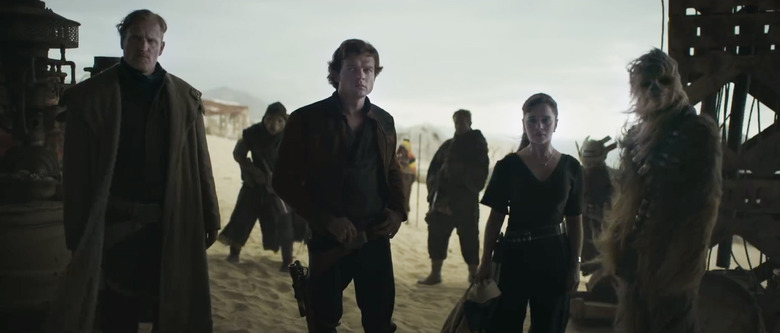 May the Fourth be with you! It's officially Star Wars Day, and to celebrate, Disney and Lucasfilm have put tickets for Solo: A Star Wars Story on sale today. But that's not all.
A new Solo A Star Wars Story clip has surfaced online featuring a fantastic exchange between Han Solo (Alden Ehrenreich) and Chewbacca. Meanwhile, a new Solo TV spot focuses on the playful rivalry between Han and his fellow scoundrel Lando Calrissian (Donald Glover). Plus, the whole gang assembles for a couple new posters and images from the film. Check them all out below.
Solo Tickets on Sale
First of all, if you're planning to see Solo: A Star Wars Story on opening night, you better hurry and get your tickets now. Since the movie is looking to have a record-setting Memorial Day weekend at the box office, there are going to be plenty of packed theaters. Fandango might be the best place to pick them up, but if you're looking to see Solo at another theaters, just check your local listings to buy tickets. Of course, if you buy at Fandango, you'll get a cool poster.
New Solo Posters
Fans who order their tickets through Fandango will receive a complimentary poster (left) while supplies last. It's a solid poster, even though it looks like something just got dropped on the Millennium Falcon. Plus, Dolby Cinemas released a new poster that fans might be able to get their hands on after screenings, if they're lucky.
Solo Trading Cards Reveal New Images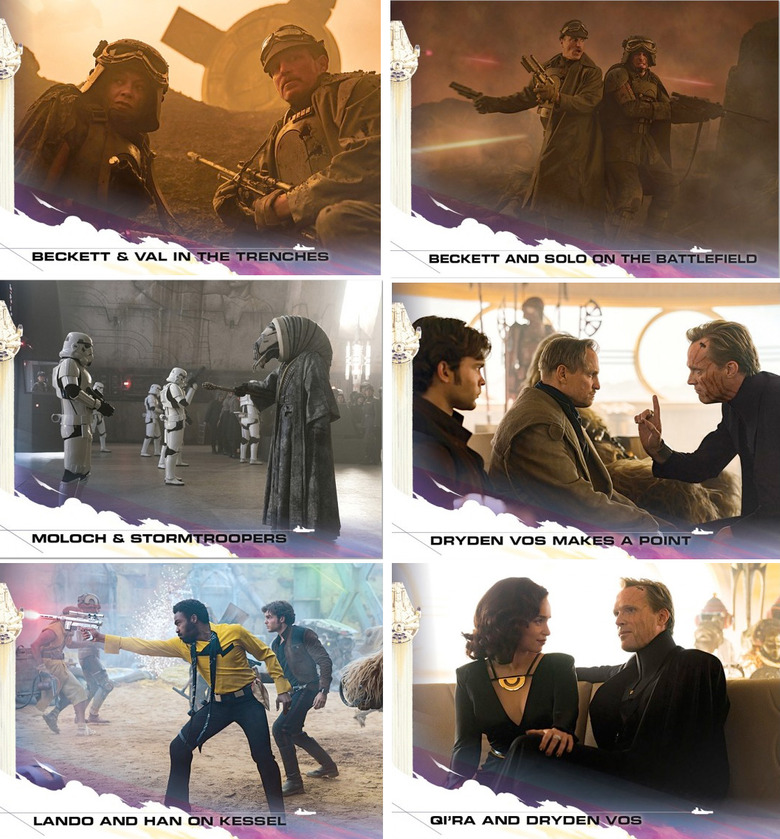 Some people are apparently still collecting trading cards, and Topps released some special edition Solo cards leading up to the release of the movie. A new one was made available for a 24-hour period until they were sold out. The only reason we care is because they offer up some new images from the movie.
Solo A Star Wars Story Clip
The best part of the Star Wars onslaught today (at least so far) is this new clip from Solo featuring the first time Chewbacca hops in the co-pilot seat of the Millennium Falcon with Han Solo. There's a nice little moment when both Han and the audience take a beat to treasure this moment where these two really start their friendship and partnership as the best smugglers in the galaxy. Plus, keep your ear open at the beginning of the clip and you'll hear a quick score tribute to the track "The Asteroid Field" from The Empire Strikes Back.
Solo TV Spot with Plenty of Lando
Finally, to round out the Star Wars Day marketing blitz for Solo, a new TV spot has arrived to showcase the playful banter that Han Solo and Lando Calrissian have when they play some cards. Donald Glover continues to be the MVP, but the more I see of Alden Ehrenreich as Han Solo, the more charmed I am by his performance. Hopefully he can keep that up throughout the entire movie.
***
Solo: A Star Wars Story makes the jump to light speed in a high-octane adventure that navigates the perils of a dark and dangerous criminal underworld, forges new friendships that will last a lifetime, and reveals untold secrets from the hidden past of one of the Star Wars saga's most unlikely heroes. Han Solo meets loyal co-pilot Chewbacca and notorious gambler Lando Calrissian for the first time, bound by a desperate mission against impossible odds that will help shape the irresistible scoundrel audiences have come to love.
Directed by Ron Howard, Solo: A Star Wars Story stars Alden Ehrenreich (Hail Caesar!) as Han, with Donald Glover (Atlanta) as Lando Calrissian and Joonas Suotamo (Star Wars: The Force Awakens) as Chewbacca. Woody Harrelson (The Hunger Games) is playing Han's mentor, a man by the name of Beckett, while Emilia Clarke (Game of Thrones), Thandie Newton (Westworld), Paul Bettany (Avengers: Age of Ultron), and Phoebe Waller-Bridge (Fleabag) also star.
Solo: A Star Wars Story hits theaters Memorial Day weekend on May 25, 2018.