Theme Park Bits: Sea World Announces 'Sesame Street' Land, New Previews Inside Florida's 'Toy Story' Land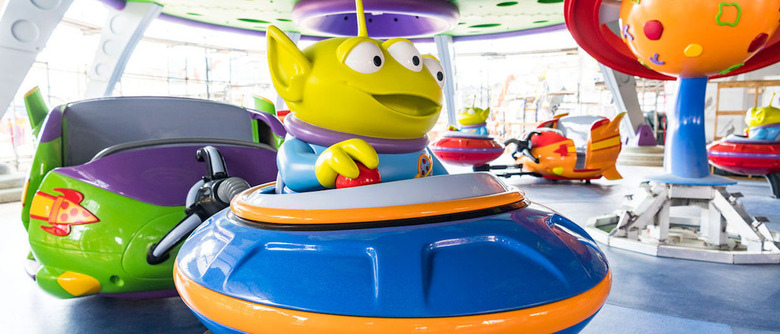 In this edition of Theme Park Bits:
See the star-studded grand opening of Fast & Furious – Supercharged at Universal Orlando.
A land themed to Sesame Street is coming to Sea World Orlando.
The Ferris wheel at Disney California Adventure has a new name.
Explore 360-degree ride footage of Avatar – Flight of Passage.
Watch Wheezy the Penguin come to life in Toy Story Land at Disney's Hollywood Studios.
And more!
The ride may have already opened on April 23, but that didn't stop Vin Diesel and other stars of the movie franchise from stopping by Universal Orlando for the official grand opening of the Fast & Furious – Supercharged ride. A complete guide to the attraction's Virtual Line is up on the Universal Orlando blog.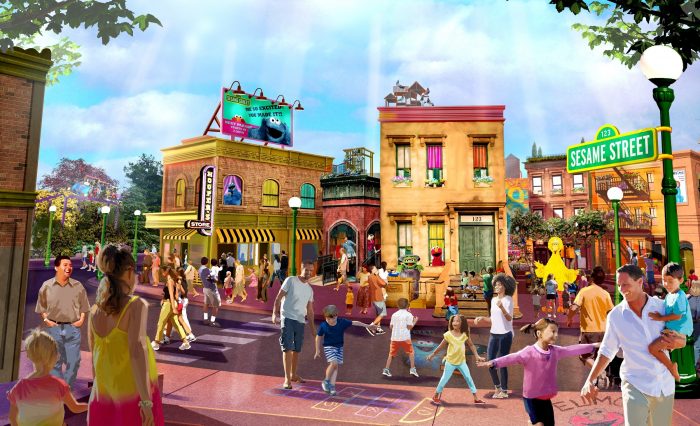 There will soon be a definitive answer to the question, "Can you tell me how to get to Sesame Street?" Come Spring 2019, that answer will be, "It's in Sea World Orlando." Guests will be able to meet Big Bird and Cookie Monster, see a parade led by Elmo, and have fun with rides and interactive experiences.
As of right now, however, the only thing that seems to justify the inclusion of this land in a place called Sea World is the mention of "wet and dry play areas." Then again, maybe that's an Oscar the Grouch line of thinking. This could help revitalize SeaWorld in the post-Blackfish era when having Shamu as the face of the park is no longer viable.
As part of Pixar Fest, Disney California Adventure has set up a special "Pixar Pals" greeting area where guests can meet Pixar characters two at a time. There is also an exhibit with movie posters and life-size statues of characters from Coco. See it in photos on WDW News Today.
The new name for the Ferris wheel at California Adventure (formerly Mickey's Fun Wheel) is the Pixar Pal-A-Round. Disney Parks Blog has some concept images of the ride's rethemed gondolas, along with an assurance that the "guest favorite will still include the iconic face of Mickey Mouse on the Paradise Bay side of the wheel."
Adorable Snowman Frosted Treats surprises #PixarPier guests with early launch at @Disneyland Resort https://t.co/XvuM7vOABW pic.twitter.com/haGjfoFGc2

— Inside the Magic (@InsideTheMagic) May 1, 2018
The ineffable John Ratzenberger has voiced a character in every Pixar film and if you can name all of them without cheating and looking it up, then you deserve a No-Prize. (Marvel's owned by Disney now, so that should work, right?)
One of those Ratzenberger characters, the Yeti from Monsters, Inc., now has his own Adorable Snowman Frosted Treats stand at California Adventure. The stand is actually part of Pixar Pier, but this week it opened ahead of schedule, so guests can already stop by while they're waiting for the rest of Pixar Pier to open on June 23. Don't forget to play "Six Degrees of Ratzenberger" while you're waiting in line.
If you've never seen a 360-degree VR video on YouTube, then prepare to have your mind blown by the above video of Avatar – Flight of Passage, which comes our way from ThemeparkThrills (via Disney and More). Note: the 360-degree effect may not function in all browsers.
Disney's Animal Kingdom is offering Extra Magic Hours on most mornings in May and all throughout June. In July, it will pass the baton to Disney's Hollywood Studios, which will offer Extra Magic Hours every morning and every Thursday night according to Mouse Planet. This will continue until late August to ease park congestion as summer crowds converge on the new Toy Story Land to test out rides like Slinky Dog Dash (which just released its first POV footage this week).
We've seen it in concept art, but this week Disney released the first official photo inside the upcoming Alien Swirling Saucers ride at Hollywood Studios. The surrounding Toy Story Land will also feature a cool marriage of street entertainment and theming, with performances from Sarge and the Green Army Man Drum Corps happening multiple times daily.
In the video above, you can get a glimpse at how Imagineers in Toy Story Land are bringing Wheezy, the Sinatra-esque singing penguin, to life for the first time ever in a Disney park. Good Morning America also aired a segment this week giving a quick video glimpse at Wheezy, the Alien Swirling Saucers, and more. Be prepared to do push-ups if and when you run across the Green Army Men in Toy Story Land.
The next Star Wars: Galactic Nights at Hollywood Studios is just a few weeks away and now comes word that author, fashion designer, and voice actress Ashley Eckstein — who played Ahsoka Tano on Star Wars: Rebels — will be there. You can get details on her appearance and a look at some of the exclusive merchandise that will be available here.
If you're over on the West Coast and missed it the first time we posted it back in March, here's another look at some flyover footage of the Star Wars: Galaxy's Edge construction site at Disneyland.
A former Imagineer is claiming that the new fleet of monorails rumored for Walt Disney World has already been ordered.
Hmm ... does a concert at Epcot exist inside the canon of the current Marvel Cinematic Universe? Starting June 9, guests can see Star-Lord and Gamora on stage in "Guardians of the Galaxy – Awesome Mix Live!"
'Guardians of the Galaxy – Awesome Mix Live!' begins June 9 at Epcot! Find out more: https://t.co/paRRzWEu0q pic.twitter.com/g9AvmqLs8f

— Disney Parks (@DisneyParks) April 25, 2018
The Downtown Disney District will be getting its own branch of the popular Salt & Straw ice cream shop later this year.
Finally, the Disney Cruise Line has announced a special lineup of Broadway performers for its "Star Set Sail" voyages beginning May 13.