'Conan' Will Become A Half-Hour Show In 2019, Conan O'Brien Kicking Off Comedy Tour In 2018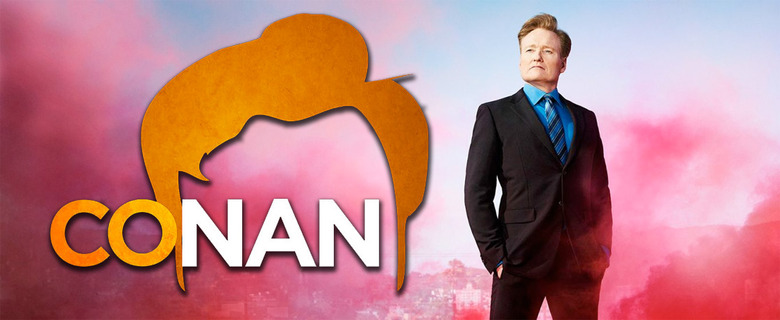 Back at the beginning of 2017, TBS indicated that some changes might be in store for Conan O'Brien and his late night talk show Conan when their deal was renewed in 2018. At the time, the rumor was that Conan might turn into a weekly show rather than a nightly one, but TBS wasn't looking to make any changes until a new deal was finalized. Now that 2018 has arrived, that new deal has materialized, and it does include some changes for Conan, but they all sound promising.
Conan will still air four nights a week on TBS, but it will only be a half-hour show. The change is part of a new effort for Conan O'Brien and his Team Coco production banner to craft a show that is a little less structured and expands their dedication to comedy, both on television and through digital content online. On top of that, Conan will kick off a live comedy tour later this year.
TBS announced their new expanded partnership spanning television, digital, social and live events today in an official press release. There's a lot to unpack, so let's break it down.
A New Format for Conan
Ever since Conan O'Brien unjustly had The Tonight Show taken back from him by Jay Leno, the comedian has enjoyed a comfortable home on cable at TBS. The hour-long talk show opened all sorts of new doors for the network's programming, and they've evolved into quite the home for quality comedy content. But starting in 2019 the show will only run 30 minutes long when it hits TBS four days a week. It's mostly because of the evolution of TV since the advent of streaming content. Conan explained in the press release:
"Since I inherited my Late Night show in 1993, TV has changed exponentially. I'd like to think I have evolved with many of these changes, but now it's time to take the next leap.  A half-hour show will give me the time to do a higher percentage of the comedy in, and out, of the studio that I love and that seems to resonate in this new digital world. It's still going to be me hosting a very silly show, but I want segments on my half-hour program to link to digital content, deepening the experience for my younger fans, and confusing my older ones."
Conan has found great success online lately with tons of clips going viral. Whether it's the ongoing Clueless Gamer segments or his international Conan Without Borders jaunts taking Conan to various locations around the world, it's become clear that audiences are finding O'Brien's work outside of cable television, and the comedian wants to embrace that to its full potential.
For those who are fans of Conan's travel-themed specials from Cuba, Mexico, Haiti and Israel, he'll continue to travel the globe for laughs. But instead of long specials, I wonder if we'll get segments spaced out over regular episodes like Conan's travels with his associate producer Jordan Schlansky:
Team Coco Expanding with Comedy Tour and Digital Content
As part of the new TBS deal with Conan O'Brien, the comedian's Team Coco production banner has named Billy Parks as Chief Brand Officer in a venture that will see the company embark on "360-degree expansion efforts" that will include "an array of talent deals with stand-up comedians driven by live touring and original digital material." But what does that mean?
Well, first of all, it means Conan O'Brien will be heading out on a stand-up comedy tour with a bunch of other comedians in 2018. Conan will host the multi-city tour across the country and bring a slew of yet-to-be-named stand-up comedians that you've seen on his show before. Conan has consistently highlighted stand-up comedians in a dedicated fashion in the way that Johnny Carson used to during his heyday on The Tonight Show, and this shows his continued love for the art of stand-up.
Furthermore, plenty more comedians will be part of creating branded digital content, not unlike the Clueless Gamer segments that have taken the internet by storm. If you've yet to see one of those segments, here you go:
Here's what Parks had to say the evolution of Team Coco:
"Not only does Conan have an epic history of working on one of the most prestigious and long running shows in comedy, the way he and his team have evolved the show over the past five years to create touch points that weave linear, digital and live for fans and brands is impressive. I am excited to be a part of the team as TBS and Team Coco double down on being funny everywhere."
For fans of comedy, this sound like nothing but great news. But that's not all.
Celebrating 25 Years of Late Night and Moving Forward

Along with Conan's new comedy endeavors on TBS, he'll be celebrating all his years of hard work that came before. This year marks 25 years that Conan O'Brien has been working in late night television, and to celebrate, the entire library of episodes from Late Night with Conan O'Brien from NBC and Conan will be available digitally on TBS. This marks the first time all of this content has been so readily available, and it will offer a treasure trove of laughs for fans to revisit over and over again.
Conan wrapped up the big announcement by offering this statement:
"Starting out on Saturday Night Live and The Simpsons, through Late Night and my work with TBS, one of the great joys of my life has been collaborating with brilliantly funny people.  This new venture with TBS will give me a platform to nurture exciting young talent and find the right place for their gifts in a crowded and chaotic landscape. My goal is to be 'Red Lobster,' only instead of affordable seafood we make comedy, and every customer gets a bib.  I wish I had thought this through."
Keep your ear to the ground for more updates on what's in store for Conan, including when and where you can buy tickets for the new stand-up tour.