'Black Panther' Deleted Scenes Feature More Father And Son Moments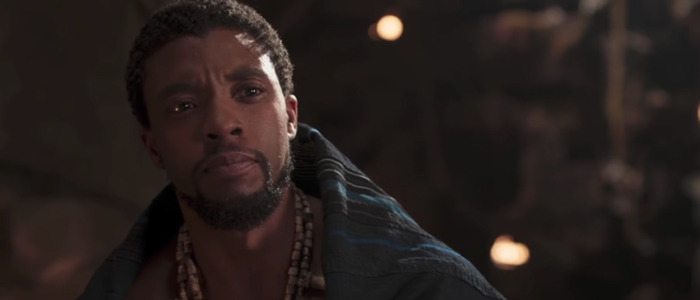 Two new Black Panther deleted scenes have found their way online. These scenes explore the bond between T'Challa and his father, T'Chaka, the former Black Panther.
The other day, we shared a Black Panther deleted scene featuring Okoye and W'Kabi. Now here are two new deleted scenes featuring Black Panther himself. Both these scenes revolve around one theme: T'Challa's relationship with his father T'Chaka.
Black Panther Deleted Scene: Voices From the Past
This first clip, via Yahoo, features a young T'Challa talking with his father T'Chaka (Atandwa Kani), the original Black Panther. T'Chaka speaks of a "difficult choice" he had to make, which is likely referring to the opening scene of the film, where T'Chaka is forced to kill his own brother, N'Jobu (Sterling K. Brown) – father of Killmonger (Michael B. Jordan). I get why director Ryan Coogler cut this – he probably wanted to get out of the past as quickly as he could to get to the main story. Still, this is a compelling scene between father and son, and I'm glad we get to see it now.
Black Panther Deleted Scene: T'Challa Remembers His Father
The second clip finds T'Challa (Chadwick Boseman) speaking with Zuri (Forest Whitaker) about why T'Chaka gave up on being Black Panther. This scene follows the ritual scene where T'Challa gains his powers and has a vision of his dead father. Again, I get why this was cut, but it provides much more character insight, and that's never a bad thing.
Black Panther arrives on digital May 8 and Blu-ray on May 15, and will feature four deleted scenes total. Here's a full list of special features.
Director's Intro
From Page to Screen: A Roundtable Discussion – Delve into the film's making
Crowning of a New King – Explore the world of "Black Panther" in all its color and complexity
The Warriors Within – Get to know Wakanda's women and the actors who portray them
The Hidden Kingdom Revealed – Wakanda's diverse people
Wakanda Revealed: Exploring the Technology
Deleted Scenes
U.N. Meet and Greet
Okoye And W'Kabi Discuss the Future of Wakanda
T'Challa Remembers His Father
Voices from the Past
Gag Reel
Exclusive Sneak Peek at "Ant-Man and The Wasp"
Marvel Studios the First Ten Years: Connecting the Universe
Director's Commentary
With these two deleted scenes, and the previously shared scene between Okoye and W'Kabi, only one deleted scene remains unseen: "U.N. Meet and Greet." You might have to wait to get your hands on the Blu-ray to see that one.