Taron Egerton Reminds Us That 'Rocketman' Is Not An Elton John Biopic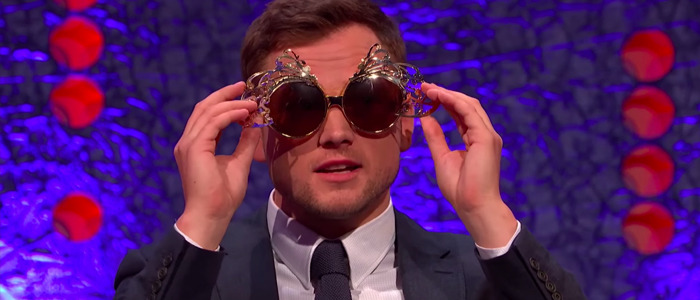 Kingsman star Taron Egerton is the latest actor to play Robin Hood (watch this morning's new trailer here), but the 28-year-old actor will also be suiting up as singer/songwriter/superstar Elton John in a new film called Rocketman. Production begins later this year, and in a new interview, Egerton confirms that the film will be a "fantasy musical" and not an Elton John biopic.
Speaking with Collider at CinemaCon, Egerton explained that the film will be about Elton John's "formative years" but it won't be a traditional biopic:
"We are making a movie called Rocketman about Elton John's formative years. Everyone thinks it's a bio-pic. It isn't. It's a fantasy musical so it's actually his songs used to express important beats in his life at emotional moments. He's not the only character that sings. It's going to be fun."
Egerton, who appeared in Kingsman: The Golden Circle with John, has a great singing voice. He'll be singing John's songs himself in Rocketman, and he actually already has some experience with that on the big screen. Egerton sang "I'm Still Standing" for the animated film Sing. Take a listen:
"I'm going to do it all," Egerton told Collider about the film's singing sequences. "I'm going to do it on set as well. We're going to use a variety of techniques but I will always be singing on set. No miming. I'm just not interested in doing it that way."
We first heard about this project all the way back in 2011, when producer Steve Hamilton Shaw explained that Billy Elliott writer Lee Hall's script would result in a "radically different" kind of movie:
"It will be as unique as Elton's life, told in a non-linear and hyper-visual manner that will transport people through the many intense experiences, some wonderful, some not, that helped define Elton as an artist, musician and man."
Scripts can often drastically change over that amount of time, but it sounds like this one has stayed pretty consistent throughout its long road to production. This movie has been in the works for a long time – Tom Hardy (The Dark Knight Rises, the upcoming Venom) was even attached to star in it back in 2013. The Greatest Showman director Michael Gracey was originally lined up to direct, but Gracey has since been replaced by Dexter Fletcher, who previously directed Egerton in an underseen-but-enjoyable biopic called Eddie the Eagle.
Egerton says filming is expected to begin this August, so we'll be keeping an eye out for more on this film as it heads into production.