Jenna Fischer Reveals Pam's Goodbye To Michael During His Farewell On 'The Office'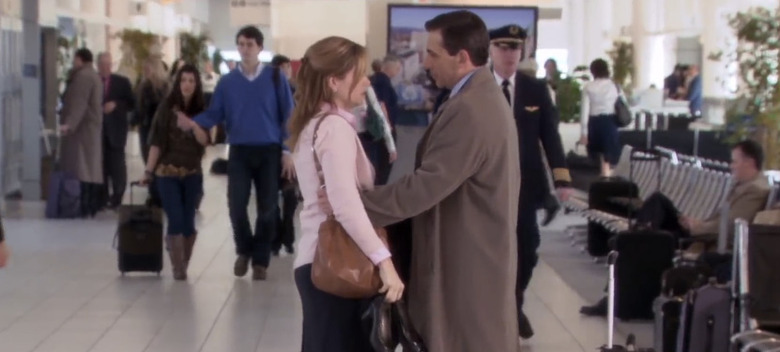 The Office is so great that it's become one of those shows people always end up watching when they can't decide what to watch on Netflix. Now that the show has reruns all the time on Comedy Central, people are reliving the good ole days of Dundler-Mifflin all the time, and a nostalgic revelation has just surfaced to satisfy curious fans.Steve Carell was a big part of the success of The Office. His departure as Dunder-Mifflin boss Michael Scott was also part of the reason the show took a huge dip in quality for the last couple seasons (though some would argue it had already started to fade before that). But his farewell episode is still easily one of the best The Office ever delivered, and series star Jenna Fischer has finally revealed what Pam's touching but inaudible goodbye to the paper company boss entailed.
For those who don't recall, we weren't allowed to hear the farewell exchange between Pam and Michael because Michael had just removed his microphone pack, and Pam left her's behind at security. We only saw them speak briefly and then hug tenderly. It was still very sweet, but it's been a Lost in Translation moment that has driven some fans crazy. Here's the scene in question:
Now we have a better idea of what was said between Pam and Michael.
In an Instagram live video (via Mashable), Jenna Fischer was asked what Pam said to Michael at the airport just before he hopped on a flight to reunite with Holly, the goofball love of his life played by Amy Ryan. She happily explained without getting too specific:
"That was me talking to Steve. I told him all the ways I was going to miss him when he left our show. Those were real tears and a real goodbye. That was a really emotional scene."
That's a lovely way to say goodbye to a character and co-star. It's a shame we can't hear what she actually said, but that's something personal between Jenna Fischer and Steve Carell. Surely any fan of The Office would have had some lovely things to say to Steve Carell about his time at Dunder-Mifflin, even if Michael Scott created a lot of emotional turmoil and awkwardness for his employees over the years.
For those curious, Jenna Fischer also revealed that her absolute favorite episode of The Office is the insane and awkward "Dinner Party." You can read an oral history of that episode at Rolling Stone.